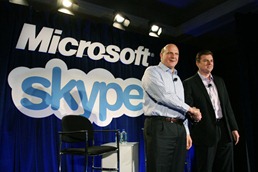 Yesterday, Microsoft announced that Skype had agreed to an unsolicited bid, negotiated to $8.5 billion.  The news, of course, came as quite a surprise.  Skype was slated to begin proceedings to announce an IPO (Initial Public Offering), to take the company public, although there was reported interest from both Google and Facebook. It was only last week that Om Malik on his blog GigaOm revealed that Microsoft was also interested, and then the Wall Street Journal broke the story on Monday night that a Microsoft purchase was nearly done.
So with the whirlwind of news, we wanted to gather some important tidbits together in one place, as news was coming fast and furious yesterday from all over the place.
First, a couple of quick and widely reported notes:
Microsoft is creating a new Skype division, with Skype CEO Tony Bates as President, reporting directly to Ballmer.  Will this mean that some of the political infighting notorious at Microsoft will be lessened, as products that would may have otherwise dragged their feet at incorporating Skype will now have to answer to Bates and Ballmer?  We certainly hope so.
Skype will still offer, and continue to work on, cross platform offerings.  The Android and iPhone apps won't go away, for example
The deal does include Qik, which Skype bought in January
The situation with Rdio, the streaming music service that Skype has $6 million invested in, is a bit murkier.  Neither Microsoft nor Rdio are commenting at this time, but streaming music, either from a locker a la Amazon or Google, or Zune Pass/Rdio/Pandora/Spotify, is a hot commodity right now
And then, although there may have been interest from Google and Facebook, Microsoft required exclusive bargaining rights, meaning that once Microsoft made the offer, they were the only ones negotiating.  According to GigaOm, a Facebook partnership with Skype is still very much in play, however:
With Microsoft, it gets the best of both worlds: It gets access to Skype assets (Microsoft is an investor in Facebook) and it gets to keep Skype away from Google.

Facebook needs Skype badly. Among other things, it needs to use Skype's peer-to-peer network to offer video and voice services to the users of Facebook Chat. If the company had to use conventional methods and offer voice and video service to its 600 million plus customers, the cost and overhead of operating the infrastructure would be prohibitive.

Facebook can also help Skype get more customers for its SkypeOut service, and it can have folks use Facebook Credits to pay for Skype minutes. Skype and Facebook are working on a joint announcement, and you can expect it shortly.

(emphasis ours)
So what about Microsoft's offerings?  The press release specifically mentioned that Xbox, Kinect, Windows Phone, Lync, Outlook, and Xbox Live, and later Steve Ballmer also mentioned Hotmail and Messenger would connect with Skype.
What's interesting is that much of this connection has probably been yet to be determined.  From the tweets and posts we saw yesterday from rank and file 'Softies, they were as surprised as we were about the acquisition, and were in a bit of scramble mode to figure out what it all means.  Would have been fun to track the number of Skype installations in and around Redmond yesterday!
Softies weren't the only ones scrambling, either.  While it remains to be seen what kind of impact Skype will have on the mobile carriers going forward, they can't be too happy today. Skype remains a threat to mobile carriers, as it cuts into their lucrative voice services by providing similar services on far less costly data plans, or even wifi.  The mobile carriers may have been hoping that Skype would just go away, but now with the might of Microsoft behind it, that isn't going to happen any time soon.  In fact, with pressure from Skype, as well as Google Voice and others, we may (hopefully) begin to see some changes in how mobile carriers charge for services.
We put up a poll so you can let us know what you think about the deal, it's in our sidebar, or fire away in the comments.