Yesterday Ad Age posted that Bing, next Tuesday, will be launching the inclusion of Like buttons on search results.  Ad Age says:
The updated service, which launches Tuesday, will incorporate data from the largest social network, which has become a key arbiter of content on the web. For example, a user logged into Facebook searching for news on Bing would see links to articles that a friend may have liked. People searching for generic terms, such as "cooking," might see recipes their Facebook friends have annointed with a "like." Where a person's Facebook friends have not sounded off on a particular search term, they would see the most popular links from the collective Facebook community, redefining search altogether.
If you've been following along at home, you know that Facebook Like buttons aren't anything new.  Bing announced the project last October, and in February the Bing team blog announced that FB Likes for algorithmic (read: not sponsored) search results were available for all US users.  We've had it here for months: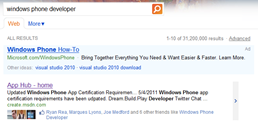 Still, we doubt that Ad Age ran this piece without a PR push by Microsoft (or possibly by Facebook), and there are some new bits of info:
As noted in the quote above – if your friends have not "Liked" a search result, you would be shown links from "the collective Facebook community"
Bing will include updates from companies on Facebook that may be relevant to the search term:

A user searching for hotels in Los Angeles, for example, might see Facebook posts with offers from a hotel chain. Companies will not be charged for appearing on Bing, which might encourage big brands on Facebook to update more frequently.

Does the Ad Age post mean that Like buttons will be expanded beyond the US, beginning Tuesday?
Bing, which remains in beta in many countries around the world, has a penchant for "flight testing" features without officially launching them, such as the Bing Like on the home page image, and Bing HTML5, which came and went (we're still waiting for the official launch of Bing HTML5).  So it is a bit of a trick to know what's "beta" and what's "launched".  So while the Ad Age post seems to be announcing a feature we've had since February, it looks "like" new features may be on their way in the continuing love fest between Bing and Facebook.