More details are leaking about Microsoft's next major update to its Windows Phone platform codenamed "Mango". Earlier today, a Twitter user @WindowsPhone8 tweeted the following:
[blackbirdpie url="http://twitter.com/#!/WindowsPhone8/status/70675300970795008″]
And soon after, Neowin posted a screenshot which shows off the new "Linked Inbox" feature, which apparently came from a press image sent to media outlets in New Zealand. According to the post, the Linked Inbox feature is rumored to be an improved version of the unified inbox capability in its competitors, namely the iPhone. It will "allow users to group together specific email accounts into a single inbox – but also providing the flexibility of keeping other inbox accounts separate." Here a screenshot showing it in action: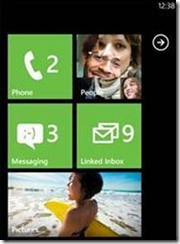 Microsoft is expected to unveil more features in its Windows Phone 7.5 VIP event next week on May 24th. Check out our previous post which summarises everything we know about Windows Phone 7.5 at the moment,  and stay tuned at LiveSide as we bring you the latest on this update!