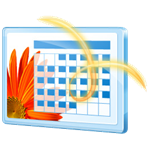 Microsoft officially unveiled Windows Phone "Mango" this morning in New York City, and touted a few major features coming in the next major release of the mobile operating system. However, it was almost impossible to cover all of the over 500 new features said to be in this "Mango" update within the short 45 minutes presentation. Luckily the launch events around the have revealed further information about the "Mango" release, particularly around the Calendar functionality in Windows Phone.
Firstly, Neowin reports from the New Zealand launch event that multiple calendars and calendar subscriptions will now be supported in Windows Phone "Mango":
We were able to confirm that Hotmail birthday calendars are now available, and support for multiple Windows Live calendar subscriptions is now available.
WMPowerUser.com also spotted from the Brazil launch event that To-Do lists will now be supported in the Calendar Hub. Below is an image of it in action: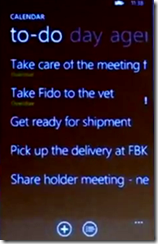 These are amongst some of the things that we've heard many LiveSide readers wanted to see on their Windows Phone, finally being able to take the full Windows Live Calendar functionalities down to your phone. We wonder what else is in store for Windows Phone "Mango"?