May, 2011
It's not long until Microsoft reveals to the world what's under the hood in its upcoming Windows Phone 7.5 update, codenamed "Mango". On May 24th at 10am EDT, Microsoft will be holding a VIP Preview party in New York and …
Get breathtaking views of the United States delivered to your desktop with this free Windows 7 theme that captures the best of Bing Maps aerial photography. Once downloaded, this dynamic theme updates automatically through an RSS feed. For more …
As announced last week, Microsoft released version 1.2 of the Windows Azure toolkit for Windows Phone at TechEd North America 2011.
Additions to the toolkit:
Support and tooling for the Access Control Service 2.0
Support for Windows Azure Storage
…
Well it looks like Bing gave up on trying to squelch the news and just went ahead and officially announced tomorrow's today's big announcement– Bing is now quite the Social animal, thanks to an expanded partnership with Facebook via the …
This morning, a press release was published to the Microsoft News Center, and Tom Warren from WinRumors.com was quick enough to grab the url.  The release (and Tom's tweet with the url) was quickly pulled, but thanks to Bing cached …
We told you this weekend about some "unofficial" news about Windows Phone coming from WPDevPodcast, and now a post on the Windows Phone Blog has made some of of that news official.
While we should be hearing a lot …

A post over at Search Engine Land today expresses shock over the notion that Nokia will power, if not outright replace, the back end infrastructure for Bing Maps. Search Engine Land contributing editor Greg Sterling had lunch with a person …
Last week, (right after they interviewed Brandon Watson), the Lowdermilk boys over at WPDevPodcast posted on some new features for Windows Phone coming in Mango, including Bing Audio and Bing Visual.  Well, they're at it again!
This time, they've got …
by Travis Pope, Zune MVP
For three years I've listened to tech luminary Paul Thurrott on his Windows Weekly Podcast tell us about the future of computing and cloud integration. I laughed at his repeated attempts to convince the wider …
Yesterday Ad Age posted that Bing, next Tuesday, will be launching the inclusion of Like buttons on search results.  Ad Age says:
The updated service, which launches Tuesday, will incorporate data from the largest social network, which has become a
…
With all the news on Windows Phone and Windows 8 recently, things had been quite quiet on the Windows Live front. But that doesn't mean the Windows Live teams have been resting. Bits and pieces have surfaced from the recent …

According to Business Insider, a Chinese press DoNews.com is reporting that Microsoft is closing in on a deal with Baidu, currently China's largest search engine, as soon as this coming weekend. According to the site:
Microsoft is close to
…

Microsoft released an compulsory update to its Outlook Hotmail Connector today to its customers, updating the version number to 14.0.5139.5001. All existing users of the connector will be prompted to update to the newer version in order to continue using …
The new comScore US search market share numbers are out for April, and they show another incremental (13.9% to 14.1%) rise.  The rising trend, starting basically back when Bing was announced in June 2009, is accompanied this time by …
The Office Web apps Service just got an update. This update brings more features to the Excel and PowerPoint Web apps as well as more optimization for IE9.
New Features:
Excel Web App
You can now insert, delete or …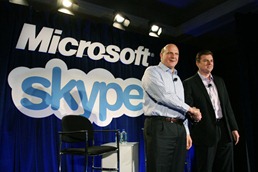 Yesterday, Microsoft announced that Skype had agreed to an unsolicited bid, negotiated to $8.5 billion.  The news, of course, came as quite a surprise.  Skype was slated to begin proceedings to announce an IPO (Initial Public Offering), to take the …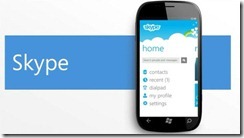 Our previous reports earlier today indicating that Microsoft to acquire Skype has been confirmed, with Microsoft releasing a press release this morning announcing that the internet communications company will be bought for $8.5 billion, the largest acquisition in Microsoft's history. …
To make it easier on developers to find corresponding code and events for use in applications, the Bing Maps team has released an interactive SDK for their AJAX Control 7.0.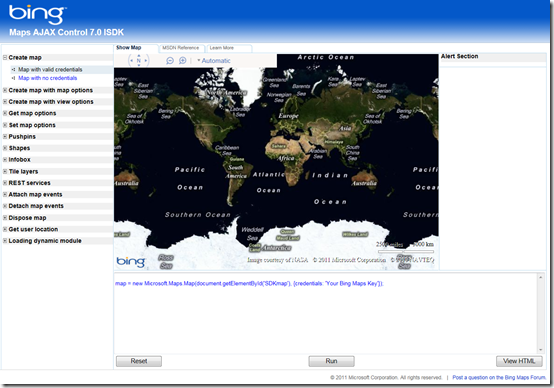 The left hand navigation shows you all the major features …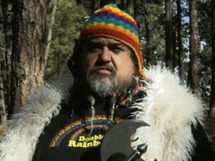 According to numerous sources, Microsoft is set to announce a $7 $8 8.5 billion dollar deal to acquire Skype, as soon as early Tuesday morning (apparently a press release is forthcoming at 5am PDT).  Even for a company that loses …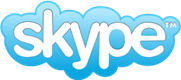 Yesterday Om Malik reported that negotiations to buy Skype, at first a two horse race between Google and Facebook, had taken an interesting turn with new of interest from Microsoft.  Now, a day later, the Wall St. Journal is …