It's been a big day today for Microsoft, being the first to kick off E3 2011 with their media briefing this morning. A lot of gaming news had been announced for Microsoft's Xbox 360, Kinect, Xbox LIVE, and Windows Phone, and it's almost too hard to catch them all. In case you've missed some of the news, below we'll provide a summary recap of all the Xbox-related announcements made today:
New Xbox Dashboard
The new Xbox Dashboard, coming holiday season this year, features the metro-look that we've seen on the recent Windows 8 immersive UI demo, including Live Tiles. According to Major Nelson's blog post, the new Xbox Dashboard will be:
Simpler. Cleaner. Easier to navigate. With the addition of new entertainment content on Xbox LIVE and our commitment to continuously improving the overall Xbox experience, we've updated the dashboard with a new look and feel that makes it even more open, inviting and intuitive to navigate. All of your favorite content is categorized in a way that is easy to browse and find what you're looking for, plus you can use voice anywhere in the dashboard to effortlessly navigate and get to what you want.
Xbox LIVE TV
Microsoft also announced that Live TV will also be coming to Xbox 360 soon, as we have reported earlier. It seems like the deals might not have been signed yet, as Microsoft will be providing more details later in the coming months:
Over the past two years, Microsoft has joined with some of the world's largest TV operators to bring live television to Xbox LIVE in the United Kingdom with Sky TV, in France with Canal+ and in Australia with FOXTEL. Now, Microsoft has announced its commitment to expand access to live television programming on Xbox 360 to more providers in the United States and around the world during the upcoming year. Consumers will enjoy news, sports and their favorite local channels, all just a voice command away, on Xbox 360.
YouTube and UFC on Xbox
In addition to on-demand videos from Hulu Plus, Netflix and Zune, Microsoft will also be adding YouTube integration on Xbox 360 in Fall 2011, bringing "web original" content to your TV. Just like the other services, YouTube will be fully supported by Kinect's motion sensing and voice technologies.
Also, Microsoft will also be partnering with UFC to bring live pay-per-view matches to your Xbox 360 this Fall. Like Netflix, ESPN and Hulu Plus, this feature will be available for Xbox LIVE Gold Members only, and it will also bring classic fights, interviews and exclusive behind-the-scenes clips  in an all-new interactive way.
Bing on Xbox with Voice Search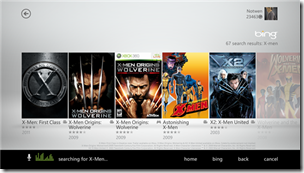 Bing will also be making it's way to your TV screen via Xbox 360 and Kinect, but not only this, but it will also feature Voice Search just like on Windows Phone 7, powered by Microsoft's Tellme technology. Simply say "Xbox, Bing, X-Men" and your Xbox will find the movie you want:
We are bringing Bing to Xbox. Bing on Xbox searches Netflix, Hulu Plus, ESPN, as well as our music, video and Xbox LIVE marketplaces to find exactly the entertainment you want to enjoy. With Bing on Xbox and Kinect, you can effortlessly find the games, movies, TV shows, sports and music you want by only using your voice. You say it, Xbox finds it. The experience is now simpler than ever before.
Unfortunately, like always, Bing on Xbox will initially only be available for users in the U.S., Canada, and the United Kingdom, with support for Australia, Canada (French), France, Germany, the Republic of Ireland, Italy, New Zealand and Spain coming by the end of this year.
Expanded Kinect Voice Support
Microsoft will be bringing Kinect voice recognition technology to eight additional markets (Australia, Canada (French), France, Germany, the Republic of Ireland, Italy, New Zealand and Spain) by the end of this year, making it a total of 13 markets that will have Kinect voice. Microsoft is also "exploring some innovative new ways to enable the LIVE community to help them accelerate the refinement of voice models in new markets". Perhaps this will also improve voice recognition in various non-English speaking countries too, both on the Xbox and the Windows Phone.
Beacons
Xbox LIVE users will also have a new social feature called "Beacons" soon. According to the Xbox Community Blog:
We want to make it easy for you to connect with friends over your favorite games on Xbox LIVE, so we are introducing Beacons to the service. Beacons are a way to tell your Xbox LIVE and Facebook friends that you want to play a game on Xbox LIVE. By setting a Beacon, you tell Xbox LIVE what you want to play. Then, Xbox LIVE lets you know when friends are playing or want to play the same game. With Beacons, no matter what you're currently doing on Xbox LIVE your friends know that it's ok to ask you to play your Beaconed games. Imagine sending out a Beacon to let your friends know you're interested in playing Halo, while watching a movie on Netflix. It's about making it easier for you to share and discover games and multiplayer opportunities with friends on Xbox LIVE.
Cloud Storage for Game Saves and LIVE Profile
This is a big one. Finally, your Xbox LIVE experience is truly…"Live". Microsoft will be providing cloud storage for all your Xbox LIVE game saves and profile information, so you can retrieve them no matter where you are. Perhaps we might see this on the Windows Phone "Mango" too?
Here at Xbox LIVE we listen to your feedback. We are making it easier for you to sign into your Xbox LIVE account from any console at any time to access your game saves and full profile, including items such as Microsoft Points to make purchases, Achievements and friends. Cloud storage will allow you to enjoy the same great Xbox LIVE gaming experience even when you're not in your own living room by giving you the option to store your "game saves" securely in the Xbox LIVE cloud instead of on a portable memory unit or your console's hard drive. Gone are the days of "gamertag recovery." Now all you need to do is sign in, no matter where you are!
Kinect Fun Labs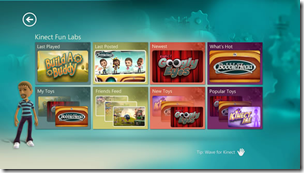 Kinect Fun Labs is a new feature will shows off the capability of Kinect's motion camera technology. Starting today, Kinect Fun Labs will launch with four Gadgets: Kinect Me, Bobble Head, Build A Buddy and Kinect Googly Eyes. More Gadgets will also be coming in July, including Avatar Kinect and Kinect Sparkler.
A huge line-up of Xbox 360 and Kinect games
Microsoft once again revealed a list of blockbuster games coming to the Xbox 360, including the long-awaited Halo 4. Some of these games have been enhanced with Kinect support like "Forza Motorsport 4" and "Mass Effect 3", while others are Kinect-only such as "Dance Central 2", "Kinect Star Wars" and "Kinect Sports: Season Two". Below is a list of upcoming Xbox 360 games announced by both Microsoft and EA Games:
Batman: Arkham City
Battlefield 3
BioShock Infinite
Call of Duty: Modern Warfare 3
Dance Central 2
Elder Scrolls V-Skyrim
Fable: The Journey
Family Game Night 4
FIFA Soccer 12
Forza Motorsport 4
Gears of War 3
Ghost Recon: Future Soldier
Halo 4
Halo: Combat Evolved Anniversary
Kinect Sports: Season Two
Kinect Star Wars
Kinect: Disneyland Adventures
Kingdoms of Amulur: Reckoning
Madden NFL
Mass Effect 3

Minecraft
NCAA Football 12
Need for Speed The Run
NHL 12
Once Upon a Monster
Puss In Boots
Rise of Nightmares
Ryse
Saints Row: The Third
Sesame Street: Once Upon a Monster
SSX Snowboarding
Tiger Woods PGA TOUR
Tom Clancy's Ghost Recon Future Soldier
Tomb Raider
The Deepak Chopra Project
The Gunstringer
The Sims™ 3 Pets
UFC Trainer
Your Shape Fitness Evolved 2012
Games Hub in Windows Phone "Mango" and updated Xbox LIVE Extras app
Today you'll also find an update to the Xbox LIVE Extras app on the Windows Phone marketplace, bringing Avatar Marketplace to your phone. You can now customize your Xbox LIVE Avatar with a wide range of props and clothing directly on your phone. In addition, the Windows Phone team blog also detailed what will be coming in the Games Hub in Windows Phone "Mango":
Coming later this year in Mango is more native support of Xbox LIVE features in the Games Hub like:

See your played games and unlocked/locked Achievements
Compare Achievements with other Xbox LIVE members
Search your list of friends to see who is online and what they are doing
See your Xbox LIVE messages and Send/Accept/Reject friend requests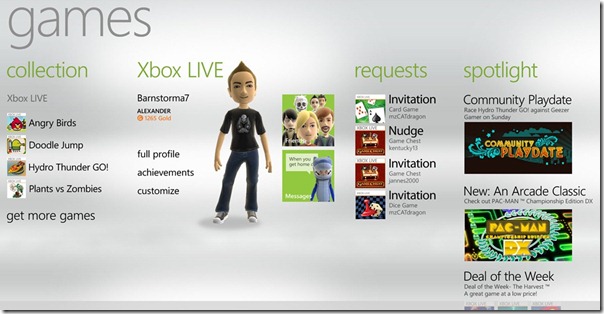 New Xbox LIVE games for Windows Phone 7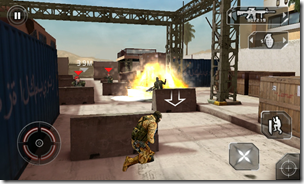 According to the Windows Phone team blog, a big line up of new Xbox LIVE games for Windows Phone 7 has also been announced:
Beards & Beaks (Windows Phone exclusive)
Hasta La Muerte (Windows Phone exclusive)
Tentacles (Windows Phone exclusive)
Z0MB1ES (on teh ph0ne) (Windows Phone exclusive)
Let's Golf 2
Tom Clancy's Splinter Cell Conviction
Top Gun
PAC-MAN Championship Edition DX
If you've missed out the Xbox @ E3 media briefing this morning, be sure to check it out at Microsoft News Center.