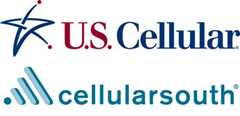 With Windows Phone 7 now finally available on the four major US carriers – AT&T, T-Mobile, Sprint and Verizon, Microsoft have not been resting in getting their phones onto other cellular networks. Just recently, news came out that the Windows Phone 7 is coming to two other carriers – US Cellular and Cellular South.
According to the press release from US Cellular (thanks Delibird444 for the tip!), currently the sixth largest wireless provider in the US, they will be launching their first Windows Phone 7 sometime between now and the end of the year:
U.S. Cellular plans to launch four devices from HTC Corp. beginning this summer, including the carrier's first Windows Phone device that runs the Windows 7™ operating system. The Live Tiles on the Windows 7 homescreen show all of the messages, voicemails, e-mails and social network status updates in a single glance. U.S. Cellular also will launch a mobile tablet from HTC in early fall, which has a 7-inch screen and can be held in one hand for easy access to hundreds of thousands of Android applications. Two additional Android-powered phones from HTC are expected to launch in the fall.
There's no further information as to which HTC phone will launch on their network, which could either be the HTC HD7S, Surround, Arrive/7 Pro, or the Trophy, or perhaps it could be a brand new HTC devices with "Mango" pre-loaded? Update: US Cellular just posted a press release indicating the availability of the HTC 7 Pro starting June 14. The handset is available for $199.99 after a $100 mail-in rebate along with a data plan purchase. Check it out here.
On the other hand, Clarion Ledger (via WMPowerUser.com) reports that the HTC 7 Pro is coming to Cellular South, as soon as tomorrow (June 13):
Cellular South, however, is ready to go with its first Windows Phone 7. The HTC 7 Pro, decked out in dark gray, silver and black, arrives Monday.
With two more carriers joining the Windows Phone 7 bandwagon, and perhaps more to come, Microsoft is expanding their reach to most cellular users in the US. Let's just hope that they can sort out the mess with carriers delaying the Windows Phone updates, particularly with the upcoming "Mango" update. That is one update they can't stuff up.