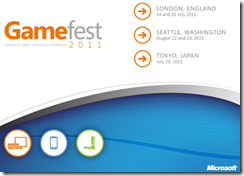 Another one of the 500 features for Windows Phone "Mango" has slipped out of Microsoft today. Microsoft today announced the Gamefest 2011 conference, aimed at developers focussing on game development on the PC, Xbox, and Windows Phone, which will be held in London (July 14-15th), Seattle (August 22-23rd) and Tokyo (July 29th).
Together with the announcement, Microsoft published a list of sessions related to Windows Phone development during the conference. The session that caught our eye is below:
Keep Them Coming Back: Downloadable Content on Windows Phone Come learn proven approaches for dealing with some of the toughest hurdles in adding downloadable content and microtransactions to your Windows Phone games! This talk introduces the new in-game purchase API for Xbox LIVE titles on Windows Phone. We'll get down to the nitty-gritty of how the API is used in Beards & Beaks, a shipped game title. We'll delve into a sample code framework that helps you implement game-side functionality not included in the SDK library, including the handling of file transfers, tombstoning, serialization, offline scenarios, localization, content ingestion, and fast content iteration.
As stated in the session description above, Microsoft has confirmed that there will be an in-game purchase API on Windows Phone "Mango". Further, we know that the upcoming Xbox LIVE game for Windows Phone – Beards & Beaks, announced last week at E3, will actually feature in-app purchasing using the built-in API.
Further, the sessions listing seems to also confirm that the upcoming Windows Phone operating system codenamed "Mango" will be called "Windows Phone 7.5 OS" in its final version.
Thanks WPCentral.com for the heads up!