Looks like we missed out on some excitement yesterday (excuse us, we all have a day job too). Microsoft Research launched Kinect for Windows SDK Beta yesterday with a launch event that could be followed live on Channel 9.
The Kinect for Windows SDK beta is a starter kit for application developers that includes APIs, sample code, and drivers. This SDK enables the academic research and enthusiast communities to create rich experiences by using Microsoft Xbox 360 Kinect sensor technology on computers running Windows 7.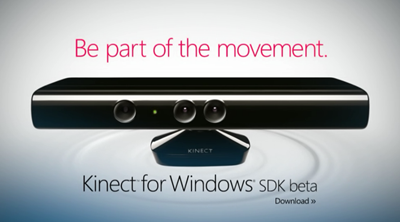 If you missed the launch event yesterday, just like we did, you can watch it on demand at Channel 9
More information can be found on Microsoft Research, Next at Microsoft, Official Microsoft Blog, Coding4Fun and of course on Channel 9!