Thanks to a couple of tips it looks like Hotmail has a bit of a new look and at least one new feature.  Last week we showed you that the new consolidated header for SkyDrive is already appearing on "Hotmail Calendar" (what we've previously known as Windows Live Calendar), and now a couple of readers have spotted the new header appearing on Hotmail, as well.
First up, AstroXP tipped us on Twitter that he's seeing the Wave 5 header in Hotmail: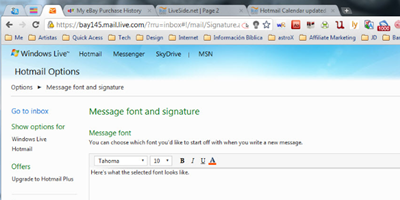 …and then from Brazil, we get a look at a new feature for Hotmail, called "Message Pre-loading",  according to our tipster Rodrigo:
I run a blog about Microsoft/Windows in Brazil and, thank for readers tips, I've found out a totally new option on Hotmail. It's called "Message pre-loading" and, when activated, it pre-loads messages and folders in Hotmail in order to make them load faster. It's noticeable the bump on speed!
You can read Rodrigo's write up (in Portuguese) on his blog, but here's a screenshot he provided: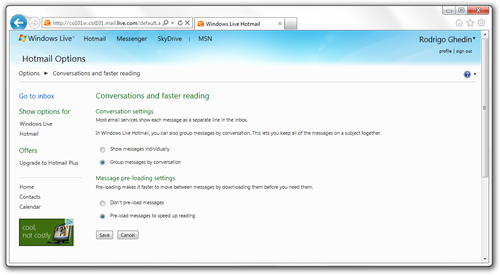 (Thanks for the tips, guys!  Remember you can always tip us at tips *at* liveside *dot* net!)
Indeed, we're seeing the new features here, as well.  Has Hotmail been upgraded for you?