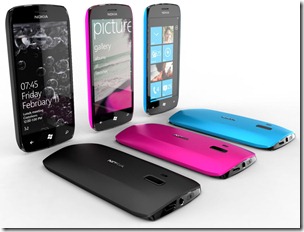 A few news is coming out recently in relation the first wave of Nokia Windows Phones due to be launching around Q4 2011. AllAboutPhones.nl (via WMPU) reports that Victor Saeijs, Vice President of Nokia Europe, told attendees at the 2011 Mobile Telecompaper Conference in Netherlands that the first wave of Nokia Windows Phones will be initially launching in six European countries – Netherlands, France, Germany, UK, Spain and Italy. He re-emphasized that the Nokia Windows Phones will launch later this year, and mentioned that he was "carrying an early prototype himself but could not show it off".
Further, Anna Leach from ShinyShiny.tv (via WMPU) reports from an Nokia event that a Nokia Windows Phone with QWERTY keyboard might be coming at the end of this year. Here's quote from her:
A [Nokia] rep said that Nokia wanted to cater to the business market, that Windows Phone was a natural choice for the business user and that business users wanted QWERTY keyboards. I'm taking that as "yes we are releasing a QWERTY phone in our 2011 line-up".
Anna Leach also further confirms the official release date for the first Nokia Windows Phones is Q4 of 2011, and even suggests that we might see one sometime round the beginning of that period. Given that the "Mango" update is due around Fall 2011, and the Acer W4 is set to launch in November 2011, these all coincides pretty nicely with each other to suggest that the next wave of Windows Phones with "Mango" pre-installed should be coming around October-November timeframe, exactly one year after the initial Windows Phone 7 launch. Afterall, Microsoft did say they'll release "major updates" to the Windows Phone platform in a yearly cycle, right?