Microsoft announced that it would purchase Skype for $8.5 billion back in May 2011, and a few days ago the US Federal Trade Commission just approved the deal. While the deal is still pending antitrust approvals from other jurisdictions, Skype still continues to develop and release their latest version of their communication client.
On June 20, Skype announced the new Skype 5.5 beta for Windows, bringing Facebook chat integration directly into the Skype client. In addition, the new Skype beta also bring Facebook social updates from your friends right into the client, allowing you to stay in touch, comment and "Like" their social updates. Check out the screenshot below: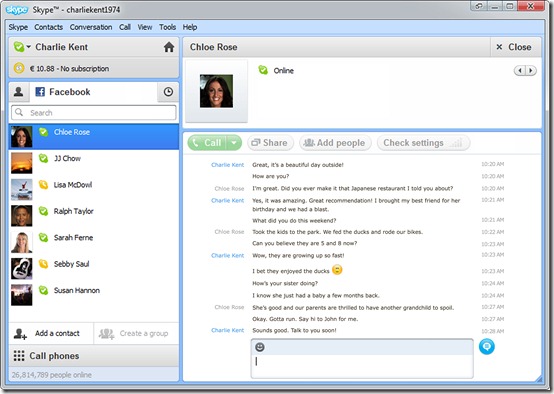 Does this sound familiar to you? This is because Windows Live Messenger 2011, released back in June 2010, also brought Facebook social feed and Facebook chat integration right into their client. Given that Microsoft is a major investor within Facebook, the social network had always been a close partner with Microsoft, announcing several deals together in the past including search and advertising partnerships, Office Web Apps in Facebook Messages, as well as the recent Bing Social integration. Microsoft also integrates Facebook into many of its products, including Docs.com, and of course Windows Live Messenger.
With the Microsoft-Skype deal on the horizon, it is interesting to see Skype and Facebook having a closer relationship given that Facebook had always set its eyes on Skype. If the deal goes through, we believe it will be a win-win situation for all three parties – Microsoft, Skype, and Facebook. Benefits of Microsoft and Skype integration aside, the deal will also make Facebook quite happy, allowing Facebook to access Skype's 145 million connected users per month to its user base. We now wonder, with Skype now featuring most of Windows Live Messenger's features (and more like multi-party video chats), what will happen by the time the deal gets signed? Will Skype simply replace Windows Live Messenger? Or will it merge into a unified communication system embedded within Microsoft's Windows 8 and Windows Phone 8 OSs? Only time will tell.