After the several rumors coming out about Nokia Windows Phones recently, it appears the first device picture of the Nokia Windows Phone has been leaked to the web. Hungarian website Technet.hu recently posted a few pictures showing what the new Nokia Windows Phone looks like, and here it is: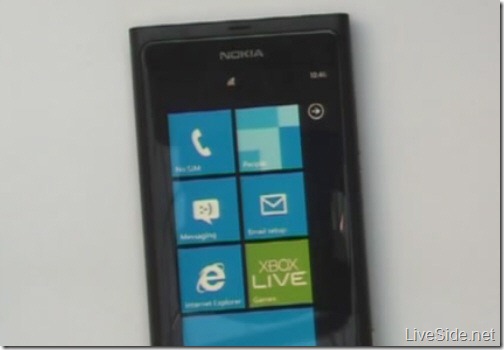 And if you think this image has been photoshopped, fear not, Technet.hu also posted a video showing Stephen Elop, CEO of Nokia, showing off the phone to a crowd of Nokia employees:
[youtube_video]Dl_zUFprjbA[/youtube_video]
Thanks to Nilantha for providing a link to the full video in the comments!
The device certainly resembles the recently announced Nokia N9, powered by MeeGo, however, it is said that the placement of the camera button and LED is somewhat different between the two. Codenamed "Sea Ray", the device is said to feature an 8 megapixel camera with Carl Zeiss lens, as well as Gorilla Glass. Not much else is known about this device at the moment, but rumor has it that Nokia Windows Phone devices will be prefixed with a "W", for Windows Phone.
Will this device be one of the first wave of devices to be announced at Nokia World 2011 on October 26? The phone definitely looks beautiful to us, but more remains to be seen including what kind of enhancements Nokia has made to the Windows Phone "Mango" OS. How do you like this new devices? Let us know in the comment below!
Update: After watching the full 21 minutes video, it was also revealed during the demo that when "Sea Ray" launches, it will ship with a full suite of Nokia applications, including Nokia Drive & Maps, an application that allow existing Nokia customers to transfer contacts to the new Nokia Windows Phone, localised apps based on specific geographies, and many more. Stephen Elop also mentioned that the "Sea Ray" is one of the many Nokia Windows Phone currently in development, and the other devices will come in various forms that is "completely different" from the Sea Ray.