Today on the Inside Windows Live blog, Dick Craddock introduced some new features in Hotmail, including new right click and keyboard shortcut functionality. What he didn't tell you about was at least two more new feature we're seeing, a live Calendar and Messenger contact list from within the sidebar: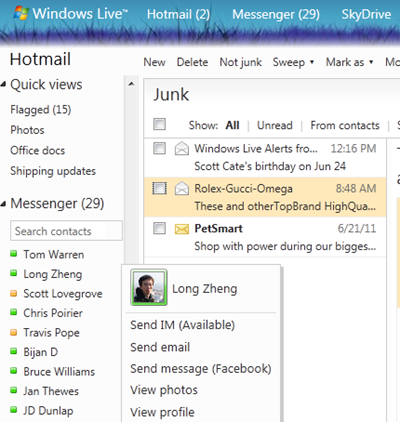 As you can see, the Messenger contact list has appeared in the sidebar, and is fully live, meaning you can open a Messenger conversation much more easily than before (clicking on a contact opens Windows Live Messenger if it's available, or the web messenger if it's not: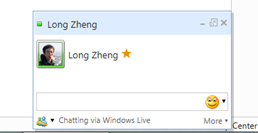 Just below the Messenger list, a Calendar has appeared: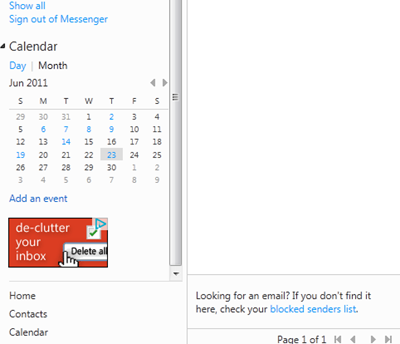 …again, this is live, and you can click on a highlighted date to get events for that day, or add new events, or switch from Day to Month view.  You still have to click on the "old" Calendar link at the very bottom to open the full calendar, so this is more of a "quick view", but still quite useful.
For the record, here's a list of the changes Dick Craddock blogged about:
Right Click: While Hotmail users can already access some functions like "Delete," "Junk," and "View Message Source" through Right Click, they can now also Reply, Reply-All and Forward messages with the Right Click function providing a faster, more efficient experience.
Keyboard Shortcuts: Several e-mail shortcuts that are already popular in Outlook are now available in Hotmail. For example, users can hit Ctrl + N for a NEW message or Ctrl + Enter to SEND their message. You can view the full list here.
Personalization: Hotmail users can now set their own default font and create a custom signature for all of their e-mail messages.
Additional Updates:

Thanks to user feedback, the Hotmail team has adjusted the Back button so that it now works more effectively, and attachments now get saved to e-mail drafts.
Users can recover some lost emails through a new link in the Deleted folder (if you happen to accidentally delete something).
And some users may have noticed that their Hotmail account feels faster. That's because the Hotmail team started rolling out speed improvements that combine smart programming with the best of HTML5 to make the inbox super-fast. We'll have more about this in the coming days.
While all these new improvements are welcome, we have to say it's a bit unnerving to try and keep up with them all, especially since the Inside Windows Live blog hasn't been, umm,  keeping up lately.  Last week we told you about "Message pre-loading", of which we haven't noticed any official explanation, and there's really no telling with Hotmail whether these features are available for all, are rolling out to selected markets, or just in testing.  We kind of miss the old days where every Program Manager had a blog – you had to pay attention, but you could be sure *somebody* was blogging about each new feature.  Now Windows Live spends more time making sure the "messaging" is right than they do bothering to tell us about new features.  What a long strange trip this has been!
Anyway check out Hotmail, are you seeing the Calendar and the Messenger sidebar?  Do you like the keyboard shortcuts and right click menus?  What do you think?
(thanks iRajesh, for the tip in the comments!)