Officially, the long awaited (and long overdue) Birds vs. Pigs game from Rovio is now available on the Windows Phone platform.  You can download it, using the Zune software, from here.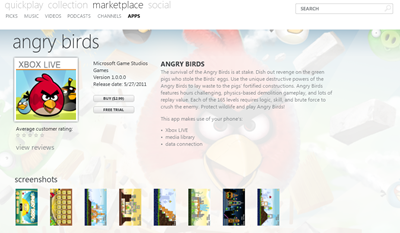 Angry Birds, the immensely popular and deceptively simple game that catapults "angry" birds at "house of cards" type structures containing a group of green pigs, has not come to Windows Phone easily.  A screenshot of Angry Birds in the Windows Phone marketplace surfaced last October, but Rovio was quick to deny that they had agreed to port the game to Windows Phone, tweeting:
[blackbirdpie url="http://twitter.com/#!/RovioMobile/status/26940229275″]
The screenshot showing an Angry Birds icon was quickly pulled from the Microsoft marketing materials.  More speculation about the game continued on through the new year, and at Mix in March, Windows Phone Corp. VP Joe Belfiore announced that Angry Birds would come to Windows Phone on May 25th, but that date was pushed back again, as Microsoft bundled Angry Birds into a package of 6 "Must Have Games", which did start on May 25th but featured a release per week for 6 weeks, culminating with what by now must be considered an anti-climactic Angry Birds.
Oh well, at least we're getting the download a few hours early.  Have fun!
(update🙂 A couple of quick notes – Zune Software puts the release date as 5/27/2011, probably meaning that the game has been ready for a month but held back because of the "Must Have Games" marketing efforts; the app costs $2.99, with a free trial, and Major Nelson just tweeted that you can "play Angry Birds on Windows Phone 7 and … earn achievements and gamerscore"
(via Mobility Digest)