A new version of Microsoft Security Essentials is available, upgrading the Security Essentials version from 2.0.657.0 to 2.1.1116.0, and the Antimalware Client version from 3.0.8107.0 to 3.0.8402.0.
We weren't able to access the upgrade directly from MSE yet, but you can download and upgrade by visiting the Security Essentials site, which itself has undergone a bit of an upgrade: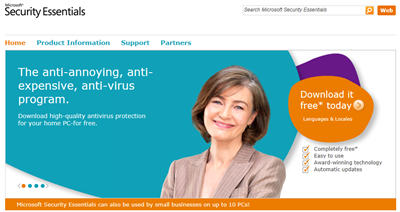 (we love the tagline, btw!)
If you're not using Microsoft Security Essentials, and are looking for a simple, cheap (as in free) and yes, "anti-annoying" antimalware program, we highly recommend Microsoft Security Essentials.  Once installed, you hardly know it's there, and the same antivirus and antispyware definitions are used to power both MSE and Microsoft's enterprise level AV offerings, Forefront Client Security, Forefront Endpoint Protection, and Windows Intune Endpoint protection.
(via Windows Valley)