There's been quite a flurry of activity in Windows Phone land in the past few days, beginning with the long awaited arrival of Angry Birds, the release of a Mango build for developers' devices, lots more new apps (we'll have more soon), and just released, a new version 2.0.0.0 of the official Facebook App for Windows Phone.
The new version's biggest new feature is Push Notifications, which once turned on, can be set to arrive via the Tile, Toast, or both, and you can choose which parts of Facebook you want pushed to your phone: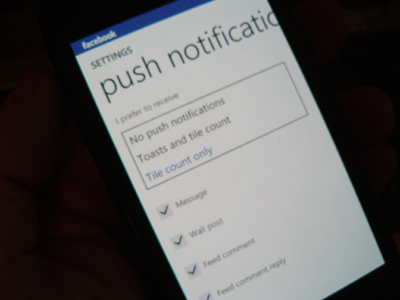 Push notifications can be set for: Message, Wall post, Feed comment, Feed comment reply, Photo tag, Photo comment, Tagged photo comment, Friend request, and Friend confirmation.
As WPCentral notes, the app seems snappier, and, well, more finished.  You can upgrade to the latest version from your phone, or download it from the Marketplace.