Hey, have you checked the Bing Maps World Tour application lately? The Tour now showcases 153 locations where Bing Maps features new outstanding high-resolution aerial imagery that is being captured and published as part of our Bing Maps Global Ortho imagery program.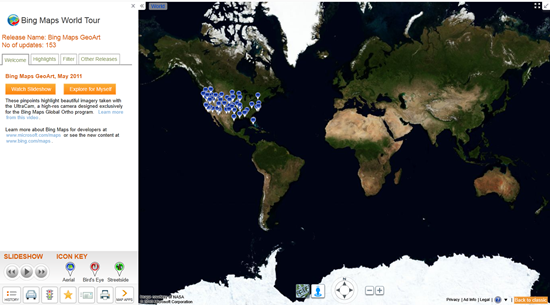 What is the Global Ortho program? Launched in the spring of 2010, this program is an ambitious mapping project that aims to provide the Bing Maps platform and consumer web site with 30cm (1 foot) aerial blanket coverage of (initially) the continental United States and Western Europe.
At this time the Bing Imagery Technologies team (BITs), completed 46% of the project. Roughly 349 blocks equaling 2,771,192 sq kilometers from 37 States, France and Spain have been published. The project is scheduled for completion by June 2012 after which a refresh cycle of 3 years will begin.
More information on the Global Ortho Project and a video with interviews of key members of the BITs team, can be found in this post by Jerry Skaw on the Bing Maps Blog.