July, 2011

According to Tezawaly from Nanapho.jp (via WMPowerUser), a variety of new Windows Phone 7 build numbers have been logged in the "Dude, where is my update?" app.
While most of the numbers are not surprising – 7711,7712,7715,7717,7718 and 7720, …
Earlier we showed you how Manan Kakkar had noticed that it's now possible to stream music from SkyDrive to your Windows Phone, and now Makram Daou at MobileTechWorld follows up, pointing out that this works with video too, and provides …
Microsoft released the "Beta 2 Refresh" build (Build 7712) of their latest Windows Phone "Mango" OS to developers earlier this week. If you are a registered developer on App Hub and haven't upgraded, you can check out the Windows Phone …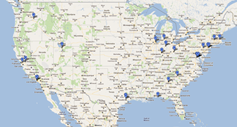 A CNET post today by Declan McCullagh (reposted at CBS News Tech with a more incendiary title) reveals that Microsoft, through its Live Location API, apparently allows searching by MAC address for locations of devices.  McCullagh, in collaboration with …
Microsoft just released Build 7712 of Windows Phone "Mango" to developers earlier today, and quite a few changes were noticed in this build since the "Beta 2" build released just over a month ago. Manan Kakkar from BeingManan.com (via WMPU…
Microsoft recently released the Microsoft Camera Codec Pack for Windows 7 and Windows Vista, bringing native viewing of RAW format image files directly within Windows Explorer, as well as Windows Live Photo Gallery. If you don't know what RAW format …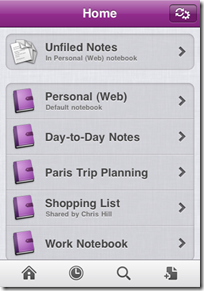 The OneNote team recently updated their OneNote Mobile for iOS app to version 1.2, bringing a slew of new features and improvements over the original version, released back in January this year. According to the official Microsoft OneNote team …
One of the promises of Windows Phone early on was the easy ability to share photos, via Flickr, Facebook, or Windows Live.  In fact, it was featured quite prominently in the early marketing materials: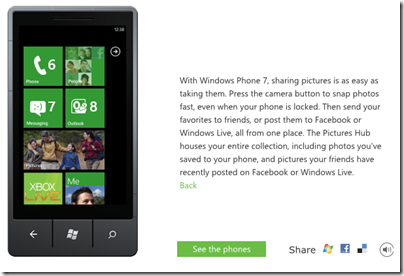 And in a section on uploading …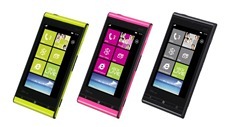 This morning, as promised, Microsoft released an updated version of Windows Phone Mango, available to developers who are willing to shell out $99 for an App Hub membership, allowing them to submit apps for Windows Phone.
Although Mango was released …
As we reported yesterday, Microsoft together with au by KDDI and Toshiba-Fujitsu announced the world's first Windows Phone 7.5 device in Japan today – the Toshiba-Fujitsu IS12T. Check out the image below for a render of the new device …
Microsoft just signed off on the RTM (Release To Manufacturing) build of their latest Windows Phone OS 7.5, codenamed "Mango", less than 24 hours ago. Cliff Simpkins, Senior Product Manager on the Windows Phone team, commented on the official blog …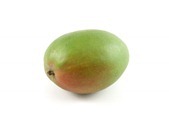 Microsoft made it official this morning, the latest version of the Windows Phone operating system, code named Mango, has been released to manufacturing.  Mango includes some 500 new features (MobileTechWorld has a list, via Mary Jo Foley…
Microsoft showed off Avatar Kinect for Xbox 360 back in CES 2011 back in January this year, allowing players to interact with one another using their Xbox LIVE Avatars. The Kinect sensor will be able to recognise facial expressions – …
Remember our previous post about Windows live sign-in now set for use with one account? How we were wondering why Linked-IDs was not mentioned in the team's post when telling how to best set up things in the new design? …
The day is here – Microsoft is set to officially unveil the first Windows Phone "Mango" device during a press event tomorrow (Wednesday July 27) at 10am Tokyo time in Japan (check your local time here). Together with au …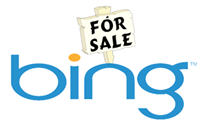 An commentary in the New York Times Business Day section today suggests that Microsoft should sell Bing, perhaps to Facebook, because it has become "a distraction" for Microsoft, and selling it would be "a boon" for Microsoft investors.  The …
A post on the Rimm-Kaufman Group (RKG) blog spotted some new, and perhaps controversial, ad placements on Bing organic search results: the listing of paid ads inline along with organic results, demarked only by an "ad" notifier to the right …
According to the Lowdermilks over at Windows Phone Dev Podcast, the latest version of the Windows Phone OS, code named "Mango" has been released to manufacturing, and is being sent out to carriers and OEMs to begin their (sometimes …
We've seen Microsoft's next generation operating system Windows 8 a few months ago, featuring a brand new "immersive" interface that makes it really intuitive to use on touch-based devices such as tablets. As mentioned during D9, they designed Windows 8 …
Got Mac and want Live Mesh to keep your files and folders synched? Download the new version now.



Windows Live Mesh for Mac brings Live Mesh and the previous version of Windows Live Sync together into one product. With Windows …