If you ever tried access Live.com using your mobile browser, you'd notice that most Windows Live web services have a corresponding mobile version that is optimised for touch screens and smaller screen sizes.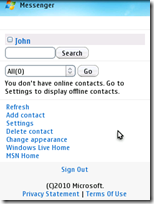 To give you a bit of history, most of these mobile versions had been available since the Wave 3 days, released in 2008 (see screenshot on the right). However back in those days, they were designed for feature phones with slow mobile internet connections (WAP) and non-touchscreens, since smartphones weren't really the norm. By 2010 with Wave 4, we saw the rise of smartphones like iPhones and Androids, and so Microsoft decided to overhaul its Windows Live for mobile websites, optimised for touch and added support for Windows Live Calendar and Groups.
However, in Wave 4 all but one mobile web service was left out – Windows Live Messenger (which was once available at http://mim.live.com). And to make things worse, the mobile web version of Messenger didn't even support MPOP (Multiple Points of Presence) – the ability to sign in to multiple places at the same time, which was often needed so you can sign in on-the-go on your phone without being logged off on the PC at home. This has all changed with the recent Wave 5 update for Windows Live, when Microsoft has finally built a touch-friendly version of Windows Live Messenger for the mobile web that supports MPOP. Check out the screenshots of the new mobile web Messenger below:
This newly revamped version of Windows Live Messenger for mobile web is built using HTML5. It is touch friendly, and even features a scroll wheel contact search which updates in real-time as you type in the contact's name. You will also be able to select emoticons (finally!), which wasn't supported in the old WAP version before. Most importantly, it also now supports Facebook chat, with all of your Facebook contacts also available on the Messenger contact list.
You can now access Windows Live Messenger for mobile web by going to http://messenger.live.com on your mobile browser (note that this link not work on PC browsers, but redirects you to Windows Live Home instead). Also note that given some portions of the website uses HTML5, it might not work with IE on Windows Phone 7 "NoDo", but we have tested it against iOS, Android, and WP7 Mango running IE9 Mobile, which all seems to work well. If you don't have a Messenger app installed on your mobile device yet, go and give it a try now!