Zune Originals, the official online store for Zune devices, has closed its doors as of July 1st.  A page on the site (www.zuneoriginals.net) offers up thanks for all the fish, and continues to throw "damning with faint praise" fuel on the fire: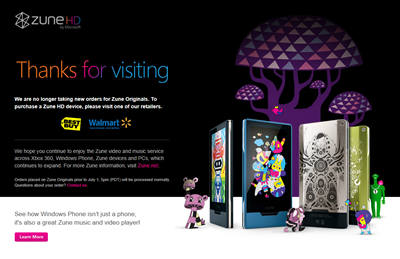 The text reads:
We are no longer taking new orders for Zune Originals. To purchase a Zune HD device, please visit one of our retailers.

(logos for Best Buy and Walmart)

We hope you continue to enjoy the Zune video and music service across Xbox 360, Windows Phone, Zune devices and PCs, which continues to expand. For more Zune information, visit Zune.net.

See how Windows Phone isn't just a phone,
it's also a great Zune music and video player!
So no place to buy Zunes, but "continue to enjoy" Zune services, and oh, by the way, if you want a Zune device, check out a Windows Phone!
Indeed, our invoice for Angry Birds in today's mail came on interesting letterhead:

So the Zune brand may well be living on, at least for the time being, but this simply does not look good for the future of Zune devices, as we've been saying all along.
(via EntertainmentConnected, of course)