HoTMaiL, the first HTML enabled free email service, was launched on July 4th, 1996 by two former Stanford students, Sabeer Bhatia and Jack Smith, making yesterday Hotmail's 15th birthday.
The two sold Hotmail to an investment company and it was eventually purchased by Microsoft in 1997, for a reported $400 million.  Last year Dick Craddock wrote up "A Short History of Hotmail", including a succession of Hotmail logos: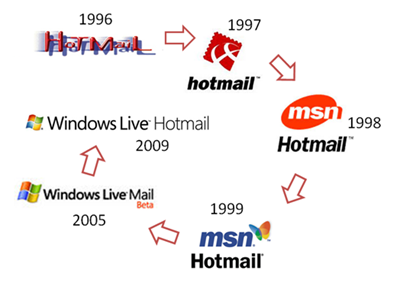 and a bit of history about how Hotmail, when coming to Windows Live (and facing some stiff competition from Google's upstart new Gmail), totally rebuilt the back end from using Unix, C++ and Perl to Windows Server, SQL Server, C# and .Net.
Today, Microsoft is celebrating Hotmail's 15th birthday with a series of blog posts and birthday wishes, focusing on a  steady stream of recently introduced features, including Sweep, Aliases, inline video viewing from YouTube, Vimeo and more, IE9 pinned sites integration, and speed, speed, speed.
The Inside Windows Live blog post even takes time today to announce something we told you about last week, the introduction of a quite useful calendar into the left sidebar (along with a Messenger buddy list, which, we now realize (oops), has been there for a while):
We're rolling out the mini-calendar on a trial basis now in order to get feedback and expect to turn it on for all users soon.

And if you're looking for a particular email, we added a "go to" option that lets you easily get to messages from a particular date by clicking "go to" at the bottom of your message list. You can use the same control to get to messages from a particular sender when the message list is sorted by From.

 
So as a Hotmail user since 1998, Happy Birthday, Hotmail!