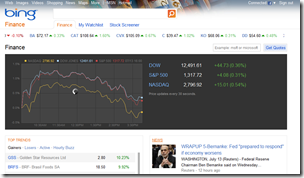 Microsoft recently updated their Bing Finance search vertical to help you make more informed finance decisions. On the official blog,  the Bing team announced that they have partnered with Seeking Alpha, StockTwits.com, TheFlyOnTheWall and Trefis.com to bring leading finance information right into the decision engine.
Below is a summary of what the new partnership brings you within Bing Finance:
Seeking Alpha

If you are one of those people who needs to stay up to date on the latest news from Wall Street, Bing Finance is the place for you. With the addition of Seeking Alpha, a leading stock market blog, Bing Finance now provides you with real-time updates during market hours and news you should know just before the opening bell.

StockTwits.com

Additionally, to enable you to make more informed investment decisions, we're partnering with StockTwits.com to surface real-time financial information into Bing. StockTwits.com helps you stay up to date on every day conversations on particular stocks and markets.

TheFlyOnTheWall

To track the latest updates and breaking news on a particular company, its competitors and its stock through the day, you can also get the latest updates from theflyonthewall.com located in the "Latest Updates" section in Bing Finance. This lets you stay informed and make quick and informed decisions.

Trefis

With the addition of Trefis.com information in Bing, the data, tools, and analysis, currently only available to professional investors, is available to you. Ever wondered what affects the stock price of a particular company the most? What % of PepsiCo's stock is Pepsi/Diet Pepsi? Now you have easy access to this level of information so you can make more informed financial decisions.

Not only do you get an estimate for a company's stock but you can quickly access a comprehensive the entire analysis behind the price estimate in a visually engaging and interactive format. In a single snapshot, Bing lets you see which one of a company's product lines or businesses impact the stock price most. In addition, in a fun, and easy-to-use framework you can modify estimates, test what-if scenarios, and ask questions to friends and experts. Now anyone can make better data-driven decisions, not just the professionals.
Besides the partnership listed above, this update also brings a comparison tool to Bing Finance to allow you to compare stocks within your portfolio relative to each other. You can click here to see a sample comparison of the stocks between Microsoft, Apple, IBM, Google, and Cisco.
Try it out now at http://www.bing.com/finance.