Microsoft revealed for the first time several new Windows Phone "Mango" devices coming this Fall during their Worldwide Partner Conference 2011. These devices came from Samsung (rumored to be the SGH-i937), Acer (the Acer W4), as well as two never-before-seen devices from Fujitsu and ZTE. While we're not sure what the ZTE phone is, we have some clues as to what to expect from the new Fujitsu phone.
Japanese blog Nanapho.jp reported that the new water-resistant Fujitsu revealed during WPC 2011 greatly resembles the Android-based Fujitsu REGZA Phone T-01C, currently available exclusively in Japan only from NTT DoCoMo. Check out a comparison below showing the Fujitsu REGZA phone on the left, and photos of the new Fujitsu Windows Phone device on the right: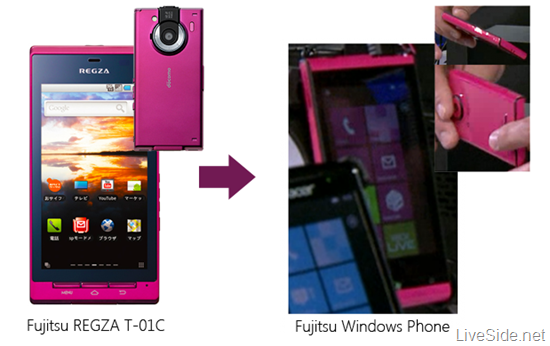 Not only the two phones are similar in appearance, but according to Fujitsu, the REGZA T-01C is also water-resistant, featuring IPX5/IPX7 water-resistance technology, meaning that it can resist water immersion at a depth of up to 1m. If the specifications for the REGZA T-01C is anything to go by, the phone also features a 12.2 megapixel autofocus camera, 4-inch LCD screen, DLNA, NFC integration, and possible microSDHC card support. Nanapho.jp also noticed from the WPC 2011 keynote video that the phone had two special OEM-specific apps on the Start screen, one resembling the Japanese NAVITIME application, and the other yet-to-be-identified app:

If the above specifications are true for the new Fujitsu Windows Phone, it definitely provides great competition to the Windows Phone landscape. We certainly hope that this phone will not be limited to the Japanese market only, but make it available to all. Looks like the Nokia Sea Ray might be getting some tough competition! We certainly can't wait to hear about more Windows Phone "Mango" devices coming this Fall.