A post on the Rimm-Kaufman Group (RKG) blog spotted some new, and perhaps controversial, ad placements on Bing organic search results: the listing of paid ads inline along with organic results, demarked only by an "ad" notifier to the right of the result: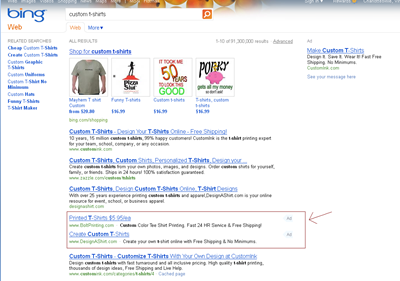 (image from RKG, they added the box around the ads).
Currently, while ads do appear "inline", they appear at the top and bottom of the results page, marked by a blue background.  This is what we're seeing here currently: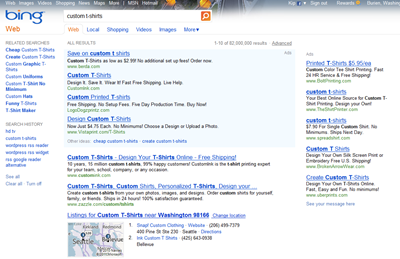 Barry Schwartz at Search Engine Land was able to confirm with Microsoft that they are testing the inline ads:
Microsoft has confirmed this is a test they are running. A Microsoft spokesperson said:

"We're constantly testing and experimenting on Bing, and with that, we carefully measure user engagement and reaction to these changes. We have nothing further to share at this time."
Schwartz also pointed back to a 2009 post where Danny Sullivan took Google to task for experimenting with this form of "paid inclusion", where the lines are blurred between ad and organic results.
Are you seeing inline ads in your Bing search results, similar to what RKG saw?  Let us know in the comments.