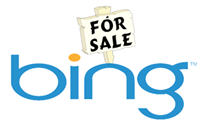 An commentary in the New York Times Business Day section today suggests that Microsoft should sell Bing, perhaps to Facebook, because it has become "a distraction" for Microsoft, and selling it would be "a boon" for Microsoft investors.  The Times figures that Microsoft would have made about 10% more profit last year without Bing's losses.
There's no denying that Microsoft has sunk, and continues to sink a lot of money into Bing, and all its online services.  They've paid dearly for acquisition costs (in addition to the Yahoo! deal, there are numerous deals to put Bing as default on new computers and mobile devices), and as Business Insider loves to point out, the bottom line for the Online Services Division, of which Bing is a (big) part, continues to look bad.
But Microsoft's plan for Bing is about more than just revenues (and revenue for advertising coming from Bing was up 15% in the just ended Fiscal Year 2011).  In a speech to the Seattle Rotary Club, Steve Ballmer gave an anecdote about wanting a computer to do what his personal assistant does for him when preparing, for example,  for the Rotary Club speech:
if I go to my computer and say, "get me ready for my trip to the Rotary," the first thing I would have to say is, where would I do that? Well, I don't know, don't have the application yet for that. My computer doesn't know me well enough, it doesn't remember me, and it doesn't understand what I mean semantically when I say "get me ready for my trip to Rotary."

And we're starting to see glimpses of this. It's why people fall in love with search engines. It's why our company is investing so much in our Bing product, because the first place where you can type in, in your own language, and the computer is going to do its best it may get it right, it may get it wrong, but it's going to do its best to do what you want to do — is the search engine. And yet, I think, having your computer not only recognize you, but understand you over time transforms the way we'll think about using information technology.
In a post titled "Earth to Microsoft: Don't Sell Bing", noted tech writer Doc Searls has another idea about how Bing could be valuable:
So here's a suggestion for Microsoft: Don't sell Bing. Sell Bing-based services directly to users — and fight Google where they're weak: with personal attention and support.

Do that by making customers of users. Sell premium search (and other) services, and provide hand-holding support.

For all its faults (and there are many, also non-trivial), Microsoft has always been a personal computing company. This is a huge advantage. The future, like the past, is personal. Not just "social." (Which, in the business sense, has come to mean advertising-supported.)
And while Searls may be reaching a bit, in another speech, this time at last week's WPC, Ballmer hinted at something quite similar, and pointed out the value of those acquisition costs:
Bing is probably the Microsoft product or service that our partners spend the least amount of time with right now. I think that'll change over the next few years, we're thinking about the dynamics and kind of architecture that will allow us to open Bing up over time to be more of a platform.

…

Our market share in the U.S. grew to 14.1 percent this year, up three points. It's actually a huge, huge increase, 30 percent growth-plus in the number of queries that we're serving with our Bing search engine.

At the same time, in the last 12 months, we've integrated in all of the Yahoo traffic. Collectively that means that we're serving about 30 percent of the search needs of users here in the United States, from 10 to 30 in one year. The opportunity to innovate in this business, in some senses, depends on traffic. So, this just wasn't a year of integration and business progress, it's actually a year of incredible progress from a product perspective.
Microsoft is busy building Bing into Xbox, into Windows Phone, and popular apps for the iPad.  It  isn't about to sell Bing, on the contrary, expect Microsoft to keep pushing and pushing.  Microsoft isn't done with Bing yet, in fact, it's only just getting started.