Earlier we showed you how Manan Kakkar had noticed that it's now possible to stream music from SkyDrive to your Windows Phone, and now Makram Daou at MobileTechWorld follows up, pointing out that this works with video too, and provides a neat trick to be able to stream video directly from the Pictures Hub, rather than the Office Hub as we showed you before.
Daou points out that these changes aren't the result of anything new in SkyDrive, but just a side-effect of bringing IE9 to Windows Phone in the Mango update:
Microsoft didn't change anything to the Skydrive: there's no new music streaming service, functionality etc.. The only "new" thing is that IE9 Mobile in the 7712 Mango build can now properly open the music and videos files hosted on a Skydrive (just like it has always work with similar files hosted on any other server….)
Now, on to the trick.  It's as easy as changing a setting on your SkyDrive folder(s) containing video, from "Documents" to "Photos".  You can change the folder settings by first clicking on the circled "i" to the right of the folder list: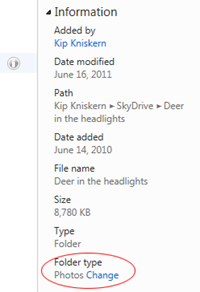 …and then changing the folder type to Photos: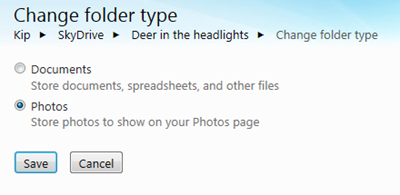 After that, the folder will show up in your Pictures Hub, where you can then stream video directly from SkyDrive to your (Mango enabled) phone!  Nice!
(thanks for the tip, "Ike"!)