July, 2011
Looks like the on again off again Bing HTML5 rumors may be on again, along with some other quite interesting changes some are reporting seeing to the Bing home page.
First, the home page changes.  Rafael Rivera posted today on …
A trio of announcements for developers (and developer wannabes) today coming from various parts of Microsoft, all intending to make it easier to write and deploy your apps.  We'll start with Windows Live, because, well, we're LiveSide!
We reported a few weeks ago that Microsoft had been testing Twitter integration on Windows Phone "Mango" and Windows Live internally. Today, the Windows Phone team posted several new videos on their YouTube account, with various program managers talking …

Bing is partnering with a new 9 week old company, Gigwalk, "the first on-demand mobile workforce" to bring 3D Photosynth panoramas of retail stores and restaurants into Bing Maps.  Gigwalk uses a mobile workforce of iPhone users who download …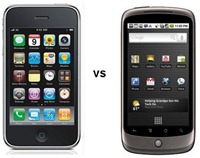 The U.S. International Trade Commission (ITC) recently ruled against HTC that it had infringed two patents belonging to Apple Inc., according to reports from AllThingsD.com. At least one of the patent, 5,946,647, appears to be related to Google's …
The guys at WPCentral have spotted a Youku (a Chinese version of YouTube) video showing Nokia's first Windows Phone device, code named Sea Ray.  The video shows a little unboxing ceremony, (note the actual hardware buttons for home, search, and …
Two weeks ago we reported that Games for Windows Marketplace is slated to be migrated to Xbox.com, potentially being the first step for the convergence of Xbox LIVE across the Xbox 360, Windows Phone, and the Windows PC. Today, …

A post at All Things D yesterday revealed that, after Twitter and Google parted ways (at least temporarily) recently, things maybe aren't going so well in negotiations to renew the relationship between Twitter and Bing.
Bing, like Google, signed a …
Microsoft FUSE Labs just released a brand new project – called the "CompanyCrowd". This new research project is aimed at businesses or individuals which helps them easily aggregate social and media content from around the internet about a particular company …
Details of new Windows Phone "Mango" devices keeps coming out. We first had information about the new Fujitsu Windows Phone yesterday, and today images of potential ZTE Windows Phone devices have been revealed.
Dr. Luo Zhong Sheng, General Manager of …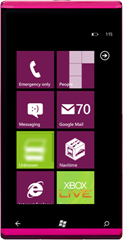 A few days ago we just reported several rumored details about Fujitsu's new Windows Phone "Mango" device, said to be based on their REGZA line of smartphones. Today, the Japanese news agency NIKKEI reported that the first Windows Phone …
SkyDrive recently got a lot faster, with a much better experience on the web and on mobile (and are beginning to promote it with some retro styled in-house ads):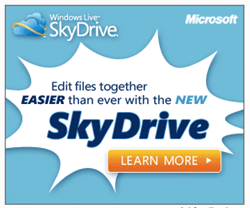 A new blog post on Inside Windows Live goes into detail …
Bing recently refreshed the look and feel of Bing Weather. They are showing forecasts from multiple providers such as Weather.com, Weather Underground and AccuWeather, but that's not all. You can now also look at the Doppler radar, evaluate the …
Alert LiveSide readers spotted the "My friend's been hacked" feature (in the comments) on Hotmail back when the new faster version was released a few weeks ago, and today the Inside Windows Live blog has some more info …
Microsoft revealed for the first time several new Windows Phone "Mango" devices coming this Fall during their Worldwide Partner Conference 2011. These devices came from Samsung (rumored to be the SGH-i937), Acer (the Acer W4), as well as …
Ever since Microsoft first talked about Mango back in Mobile World Congress earlier in February this year, Microsoft had been saying that the update will be available for release by "Fall 2011". There had been speculations that it will be …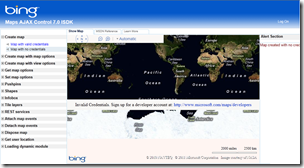 It is that time of the year again when Bing brings us a slew of new updates to their decision engine. Besides the new Bing Maps update announced a few days ago, the Bing team announced on their blog today …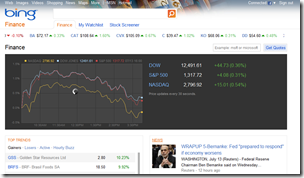 Microsoft recently updated their Bing Finance search vertical to help you make more informed finance decisions. On the official blog,  the Bing team announced that they have partnered with Seeking Alpha, StockTwits.com, TheFlyOnTheWall and Trefis.com to bring leading finance …
Early last week, Dropbox changed its Terms of Service and set off a bit of a tempest in a teacup.  Although since then, it's become clear that the "uproar" didn't bother investors too much, as the company has been recently …
In a rather surprising move today, Andy Lees, President of Windows Phone Division, revealed to the world several of the new Windows Phone "Mango" devices during Microsoft's annual Worldwide Partner Conference 2011 in Los Angeles. In the Day 2 keynote…