OK so we can't wait till next month and Build/Windows, when hopefully the veil of secrecy that seems to be over everything from Silverlight and .Net to Windows and Windows Live is lifted.
Until then, we can speculate, of course (what else is there to do?).  One of the most interesting questions about the future of Windows Live concerns Messenger video chat.
With Microsoft's recent acquisition of Skype, it's fairly certain that video chat will play a big role in the future of Windows Live, but what about the immediate future?  The Skype deal hasn't cleared all the legal hurdles it needs to, and a Skype/Messenger integration of video chat would seem to be very unlikely in the near term, but what then?  Does Messenger go ahead with pre-Skype plans only to rip them out and start over when Skype becomes part of Microsoft?  Or, like Facebook (and conveniently, perhaps able to connect with Facebook's Skype chat), could there be a Skype/Messenger integration already in the works?
One thing for sure, Microsoft has big plans for video chat (or they wouldn't have bought Skype, duh).  In fact, we came across an interesting set of icons for Wave 5 Messenger: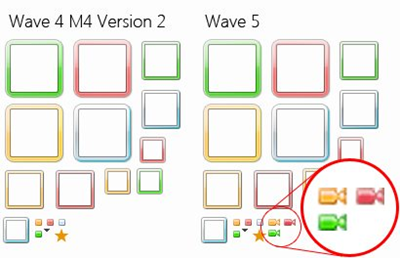 These new Messenger icons sets don't tell us much, other than continued expansion of video chat in Wave 5 looks to be moving forward, but we could certainly wish for some kind of web based, Facebook integrated, eventually Skype enabled video chat, now couldn't we?