Today Bing announced a new collaborative app for Windows Phone (or other mobile devices through a mobile web interface) called We're In.  Simply put, We're In allows you to invite, and then map the locations of your friends.  What makes it a bit different is that you create this location tracker for a specific event for a specific time period: anywhere from 15 minutes to 2 hours.  You create a "We're In" instance, invite your friends (via sms, standard rates apply), set a time period, and then if say you're all meeting up for lunch, you can track the arrivals of all your friends.
Each invitee in the app can set a user photo and a status message, and then update that message (ie: "stuck in traffic!").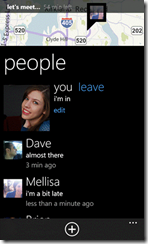 Sounds like a simple idea, well put together, using Bing Maps and Windows Phone.  So nice to see Windows Phone come first for a change!
You can learn more about "We're In" at the Bing Search blog post, or download the app from Zune Marketplace.