Although Windows Phone developers and others running pre release versions of Mango have had it for a while, Microsoft today made version 4.8 of the Zune Software available for download.  You can "Check for Updates" via Settings>General (we're not seeing the update just yet, it may take a bit to propagate), or visit Zune.net to download the latest version.
There doesn't appear to be much new in terms of look and feel, however the latest version is necessary to connect correctly to Windows Phone 7.5 (Mango).  Michael Gillett reports that Zune Pass has been renamed to "Zune Music Pass", and the list of availability of various Zune services by country has been updated: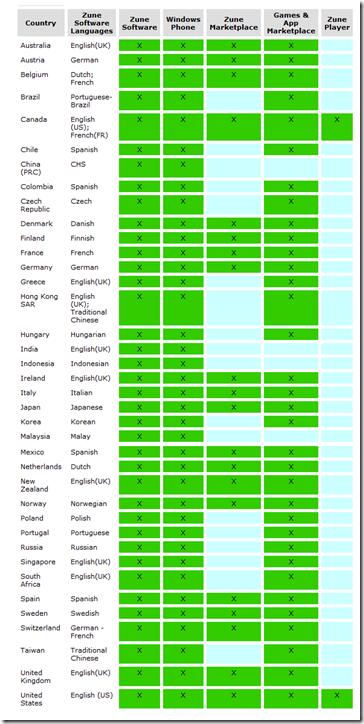 Let us know if you notice anything new.
Update: here's the official announcement.  In addition to the country availability updates (above), Zune 4.8 offers these Windows Phone update speed improvements:
Progressive updates: In Zune 4.8, you only have to click the update button
once for multiple updates. Once an update is finished, the software
automatically checks for more and repeats the installation process until your
phone is completely up to date.
Streamlined backup. By synching media separately from other phone
content, we've lowered the overall time it takes to back up your phone. The
backup file is also more compact, so it should take up less space on your
computer.
Skip phone backup: If you don't have enough room on your computer to store a
phone backup file, you'll now have the option to skip this step so you're not
blocked from updating your phone.
and some not-readily-apparent changes in functionality, including:
48-hour movie rentals
Parental Controls now support M-rated (Mature) content
Option to hide purchase confirmation dialog for faster app checkout
See what apps are compatible with the Windows Phone you own
Update #2: Now that we're seeing the update here, we can confirm that this build (4.8.2345.0) is new than the developer build (4.8.2098.0), and that your Mango Developer version of Zune will be updated, too.