This one just came in from WMPU, who just posted a leaked image of a carrier presentation flyer showing a device said to be named Nokia 703. Take a look at the image below: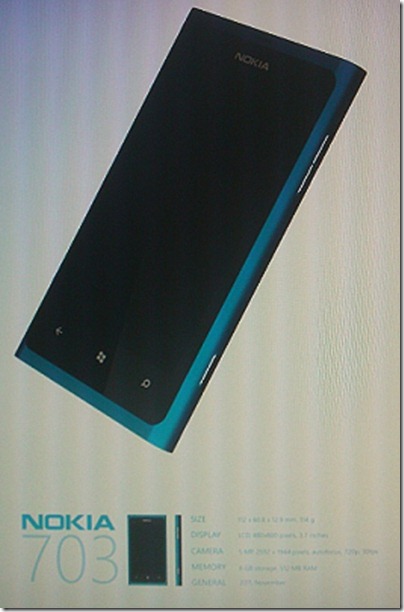 This device looks just like the Nokia Sea Ray revealed by Stephen Elop back in June, which uses almost the same hardware design as the MeeGo-based Nokia N9. In fact, the existence of the Nokia 703 was recently revealed by WPCentral via the "I'm a WP7!" app statistics.  From what we can make out from the image (let us know if you can make out the tiny text!), here's some of the details revealed in the flyer above:
Size: 112 x 60.8 x 12.3 mm, 114 g

Display: LCD 480×800 pixels, 3.7 inches

Camera: 5 MP 2552 x 1964 pixels, autofocus, 720p, 30 fps

Memory: 8 GB storage, 512 MB RAM

General: 27(?) November
The specifications, if our eyes are good enough, seems to indicate that the Nokia 703 is quite an average phone, however this phone may be targeted for the lower-end market. We understand that Nokia just recently launched the Symbian Belle-based Nokia 700 and Nokia 701, said to be the "smallest" and "brightest" smartphone in the market. Given Nokia's new naming conventions, this places the Windows Phone-based Nokia 703 in the same category as the Nokia 700 and 701. Of course, the phone is also expected to bring features such as NFC support, and we also know that the Nokia 800 is also in the making, which may potentially be the higher-end phone from Nokia. So what do you think of the phone?