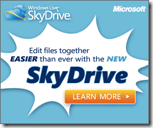 Microsoft is in the process of finally actually doing something useful with SkyDrive, after years of supporting a promising yet crippled product.  Perhaps driven by the success of Dropbox (and its supposed $4 billion valuation), and also the obvious usefulness of SkyDrive as an adjunct to Office Web Apps and Windows Phone, SkyDrive has recently been updated to use HTML5 instead of Silverlight, with new features and some great handling of images.
There's also lots more to come.  We just told you about some info we uncovered that points to devices integration, and it looks like the SkyDrive team is really gearing up.  We should hear more after the Build Veil of Secrecy is lifted in two weeks.
Now word is filtering out that Google, too, may be getting back into the online storage business, perhaps also inspired by the success of Dropbox.  Way back in 2006, when we were first reporting on "Live Drive" and "SkyDrive", Google was rumored to be preparing GDrive.  Then again in 2007, the Wall Street Journal reported on the impending release of GDrive, but it never happened.
According to MG Siegler at TechCrunch, this was because Google pulled the plug on GDrive, viewing file based systems as outdated, and the teams working on GDrive went to work on Chrome, instead.  Now, however Google may be having a change of heart, based on the appearance of a "drive.google.com" url added to Google's Chromium Code Review.
We're pretty excited about what we're hearing about SkyDrive, and how it will fit in with Windows Phone, the HTML5 enabled web, and hopefully into Windows 8 as well.  Paired with a SkyDrive client for multiple devices, we think SkyDrive could easily become the best in class in online storage and sharing solutions.  Will Google, after coming to its senses and re-enabling GDrive, be able to match what SkyDrive will soon offer?