Today Bing announced, via Twitter,  its continued relationship with Twitter, and when a couple of Microsoft watchers asked Bing Director Stefan Weitz (via Twitter, of course) when they could expect the long awaited Bing HTML5, he hinted that it could be coming soon:
[blackbirdpie url="http://twitter.com/#!/stefanweitz/status/110837485122232321″]
Well, we don't have any HTML5 goodness to report (at least not yet), but it looks like the Bing home page just got a makeover: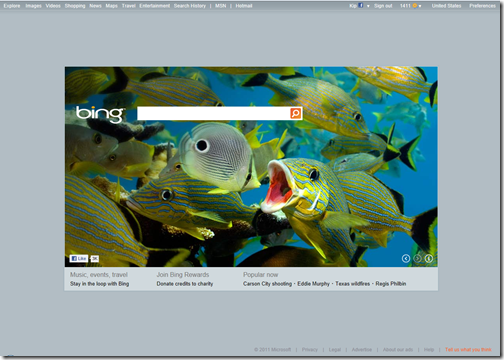 As you can see, the "explorer bar" on the lower left is gone, with all the navigation (shopping, travel, maps, etc.) running across the top bar.  The Facebook like button has moved up into the home page image, the "popular now" links are a bit bigger and more prominent, and an "information" circle has appeared next to the forward and back buttons on the lower left, which brings up the image info on mouseover.
The top navigation bar is now more consistent with nav bars in each of the search verticals (although they're not completely aligned and lead to a bit of a jarring experience when moving from page to page), and unless we're just imagining it, the gray on the home page seems a bit lighter.
Hopefully this is a precursor to another attempt at the full Bing HTML5 experience (are we waiting for IE10, or what?), but nice to be making some headway, at least.
(via: BingWatch)