So after a series of updates back in June this year for Hotmail, Microsoft is inviting press analysts to attend a Hotmail event to be held on October 3 in San Francisco and New York. Below is the invitation: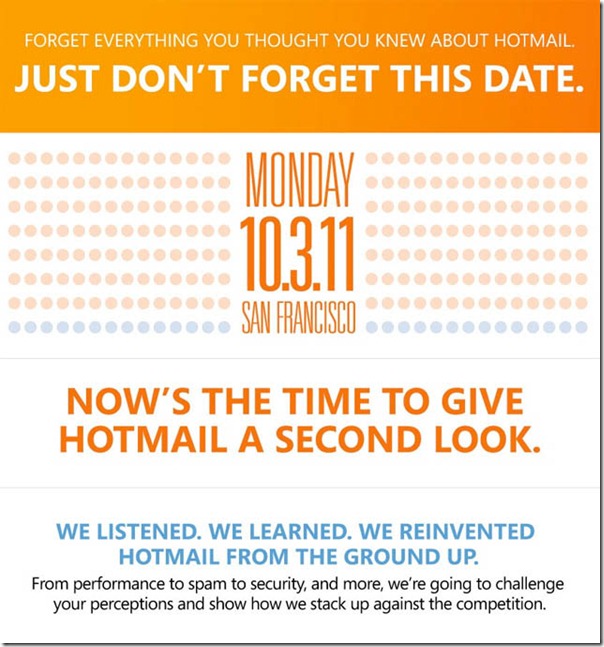 From the invitation it reads:
We Listened. We learned. We reinvented Hotmail from the ground up.
From performance to spam to security and more, we're going to challenge your perceptions and show how we stack up against the competition.
No further details were given in the invitation about exactly what changes are coming to Hotmail, and this led to some speculating that an HTML5 version of Hotmail with offline access is coming, to directly compete with Gmail's offer. However, Microsoft reached out to Neowin to offer some clarification:
This event is not considered a launch of a reinvented Hotmail. The event will include an intimate, honest discussion and new data linked to the reinvention that took place last year (plus updates since then), based on a lot of learning. You'll also hear about intriguing competitive perspectives and some additional news.
The invitation also states that more information about Hotmail will be released during the week of September 19, which is only a bit more than a week away. What could this event be about? What "additional news" are we going to hear about? The timing the the press event seems to coincide nicely after the BUILD event to be held in a few days time. Will we hear more about Hotmail, Windows Live and Windows 8? Stay tuned!