AT&T just announced their upcoming line up of Windows Phone 7.5 devices coming this fall. All three devices, coming from HTC and Samsung respectively, will be 4G enabled. The first device, HTC TITAN, was announced last week featuring a massive 4.7" screen and front facing camera. According to AT&T's press release, the other two devices from Samsung have the following specs:
Samsung Focus S
The Samsung Focus™ S builds on the success of the award-winning and highest selling Windows Phone in the U.S., the Samsung Focus™. Featuring a 4.3-inch Super AMOLED Plus display, 1.4GHz processor, 4G-capable speeds and a thin profile at 8.55 millimeters. It includes front facing 1.3-megapixel and a rear facing 8-megapixel cameras. The Samsung Focus S will find its way into a lot of pockets this fall.

Samsung Focus Flash
Designed to hit the market packed with value, Samsung Focus™ Flash's 3.7-inch Super AMOLED screen will both fit in pockets and be light on pocketbooks with the full power of Windows Phone 7.5 inside. As fast and lightweight as it is compact, it runs a 1.4 GHz processor and a 5-megapixel camera plus front facing camera.
The Samsung Focus S seems to be the phone previously unveiled during Microsoft's Worldwide Partner Conference 2011, which greatly resembles its Android-counterpart Samsung Galaxy S II, as shown below: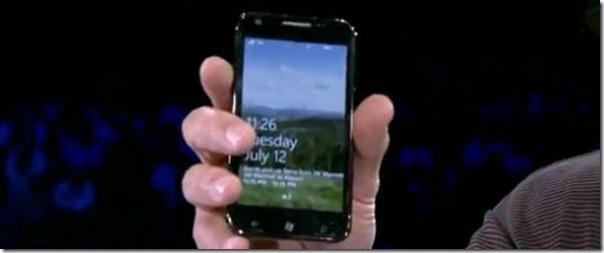 We don't know much about the Samsung Focus Flash yet, as no official press shots were released. But the device seems to be aimed at the medium to lower-end of the market, featuring a smaller 3.7" screen and a lower resolution 5 MP camera (compared to the Focus S). It seems the front facing camera will be a standard across most Windows Phone 7.5 devices, which could only be good news (Skype anyone?). There are also rumors floating around about a possible Samsung Omnia W device, likely to be aimed at the European markets. So stay tuned for more Windows Phone 7.5 news!