One of the most wanted app that's missing from the Windows Phone marketplace is finally coming soon! WhatsApp, a popular multi-platform instant messaging app, had been made available on iOS, Android, Blackberry, and even Nokia Symbian platform, however there had been no signs of the app on Windows Phone…until now. WPCentral noticed that the WhatsApp Twitter account recently tweeted the following:
[blackbirdpie url=http://twitter.com/#!/WhatsApp/status/113681566659645440]
If you think this tweet innocently refers to the tropical fruit rather than related to the Windows Phone "Mango" update, think again. This tweet was retweeted by both Joe Belfiore, Corporate Vice President and Director of Windows Phone Division, as well as Bill Cox, Senior Director of Communications for the Windows Phone Division. This suggests quite strongly that WhatsApp is coming soon to Windows Phone 7.5.
Not only this, but Plaffo.com also noticed that a teaser image appeared on the WhatsApp official website, showing the Windows Phone logo: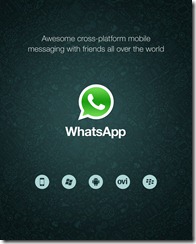 If this is still not enough, WMPU also got their hands on a photo from a tipster showing the actual WhatsApp app running on Windows Phone:
Seems like it won't be long until we finally get our hands on WhatsApp on our Windows Phones! In the mean time, a popular alternative – Kik Messenger – is also available in the marketplace, check it out now!