Following the launch of Adaptive Search last week, the Bing team has just announced another feature – Action Buttons. Currently, Bing lets users get things done faster on a website by offering "deep links", which are links surfaced in the search results that takes the user directly to a popular destination of a website (for example, a link taking you straight to the Check-in page on the United Airlines website). According to the Bing team, Action Buttons now takes this a level further, and here's what they say:
Today we are taking this a step further with the release of Action Buttons. Now when you search across 7 popular categories – including airlines, couriers (e.g. FedEx), restaurants, banks, rental cars, software downloads and hotels – you will be presented with buttons for top actions on the site, that directly take you to the page where you can complete your task.

Based on how people search, our algorithms now determine top actions and corresponding links in the site for a given category with high precision. For instance, with airlines the top 3 tasks are: check-in to a flight, check the status of a flight or book a flight. For software sites, if you are searching for a specific product you likely want to download it. For car rental agencies, you'd like to rent a car, find out locations or contact them.
You can see an example of Action Buttons displayed for a car rental website below: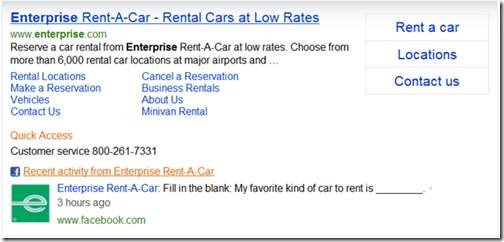 This is another step for the decision engine to better understand "verbs" rather than simple search terms, and allowing the user to quickly take action in a single click. Pretty nice feature!