Today at Facebook's F8 conference, Mark Zuckerberg is unveiling some major new changes to Facebook, including the introduction of Timeline, a new way to curate and share your life, via Facebook.
One of the filters available in Timeline is Maps, which can show all the places you've been (and shared on Facebook) on a Bing Map embedded in Facebook's Timeline, or on Facebook's new sidebar, called "Ticker".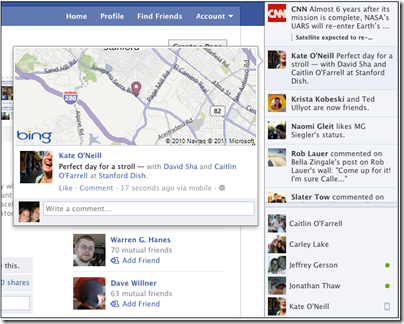 (image credit: TechCrunch)
As we write this the Facebook F8 keynote is still underway, and we'll have more on any partnership announcements as they come up.
Facebook and Microsoft have been collaborating on a number of Facebook features, and it's good to see the trend continue with these new Timeline additions.