Bing Rewards (or more officially, the Bing Rewards US Preview), a way for Bing users to earn points for searching on Bing or clicking on special searches to earn more points, is celebrating its first birthday today with a special reward, a 25 point bonus: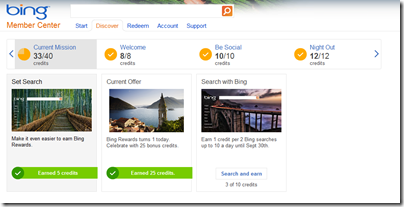 As you can see, you are also able to grab some additional points by visiting the Bing Member Center.
Bing Rewards started a year ago as a part of the Bing Bar, and then in April added a link from within the home page, bringing cross browser capabilities to Bing Rewards (the Bing Bar is IE only).  Bing Rewards is a successor to Bing Cashback, which was shut down last July.
And yes, Bing Rewards is US only:
Am I eligible to join the Bing Rewards Preview if I am not a U.S. resident?

No, only U.S. residents (50 U.S. States and D.C.) are eligible to join the Bing Rewards Preview.
The "preview" is set to end on Dec 31, and as US Bing users have already racked up some 493,950,000 points and counting since last September, we're hoping that the program may be expanded next year.
You can watch a video to learn more about Bing Rewards, or sign up if you haven't already.  Have you been using Bing Rewards?  Redeemed your points for anything fun?  What do you think about the program, does it make you more likely to use Bing?  Let us know in the comments.
update: Bing has posted on the Rewards Birthday celebration