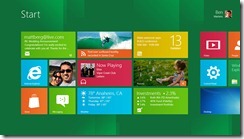 Yesterday, Corporate Vice President for Windows Live Engineering Chris Jones, in a post entitled "A preview of Windows Live for Windows 8",  expanded a bit on new Windows Live apps "based on Metro principles" and "targeted at Windows 8".  Jones previewed the apps at Build last week, showing off Mail, Messaging, and Photos apps (which unfortunately are not part of the current developer build of Windows 8, released last week and available for download).
Jones touches on the key Windows Live elements of Windows 8, including syncing Windows 8 settings across Windows 8 PCs using a Windows Live ID, SkyDrive, new Metro style apps for Mail, Calendar, Photos, Messaging, and People, and the new Live Connect set of APIs that developers can use to leverage Live ID connections, SkyDrive, Hotmail, and Messenger.
But of course with what has to be an incomplete set of information filtering out so early in the Windows 8 process, there are at least as many questions as answers.  One persistent question among Windows Live enthusiasts revolves around Live Mesh.  In the comments section "davidacoder" asks:
I take it from this "long on marketing speake but short on clear info" blog post that there WON'T be file sync a la Mesh between computers and Skydrive? I have rarely seen a post so carefully avoiding a topic, and such evasiv answers to clear questions in the comments, gee… Just let us know if this no 1 requested feature will again not be there.
We also noticed a distinct lack of mention of Windows Live Mesh at Build, although there was quite a bit of talk about syncing between Windows 8 PCs (but not much talk about how that worked or how it would be managed).  Microsoft employee and SkyDrive PM Omar Shahine responded to davidacoder:
@davidacoder appreciate the enthusiasm around this request. While this post doesn't specifically answer your question, we do realize where we have gaps in the scenarios we've enabled with SkyDrive and Mesh.
About as non-answer as an answer can get really, but the fact that Shahine responded is promising.
Another commenter, "frankwick", laments "Don't kill essentials!!! I use WLPG everyday".  We're not sure whether Essentials as a download suite will remain around, but in looking through some Microsoft Careers posts, we're hopeful that the apps we've come to love, like Writer, Photo Gallery, and Movie Maker, appear to be here to stay, in some form or other:
The next version of Windows, codenamed "Windows 8", emphasizes touch-first, modern experiences. Want to get involved? Come join the team building photos/videos experiences for the new platform.

…

We are seeking a great developer who will help build the next generation of touch-oriented photo/video experiences for consumers. You will be working with an experienced group of developers with a successful track record of building new experiences such as those found in Photo Gallery, Movie Maker and Writer.
Of course in all this talk about Windows 8, we're still not hearing much at all about the next generation of Windows 7 Windows Live apps.  Will they too be Metro-inspired?  Will they continue to exist as a suite of apps, or will they be broken down into individual downloads?  How will Windows 7 and Windows 8 apps co-exist?
Jones at least acknowledges the rash of questions about what will happen to Windows Live Essentials as we know it:
Hello – As I noted in the post we'll cover other improvements in subsequent posts. We're certainly as excited as you are to share more about our work but want to do it when the time is right.
We might say that the time was right many months ago, but at least we're beginning to hear more.  What do you want to know about the future of Windows Live?