Well, it's a start anyway.  Tonight, Bing (and yes, in the US only) has enabled an HTML5 video on the home page, a time lapse video of Grand Teton National Park in Wyoming: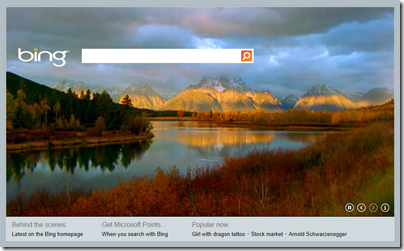 As usual, the home page image changed at midnight, but for this first day of autumn, US Bing users get a bit of a special treat (as long as they're using an HTML5 enabled browser, of course).
A post on the Bing Search blog has some more information, and this short video featuring Stephanie Horstmanshof, Managing Editor for the Bing home page.
[youtube_video]X_OgGJ4RCXo[/youtube_video]
From what we can tell, none of the other HTML5 features supposedly coming to Bing have been enabled, so we'll have to make do with a pretty cool home page for now.  According to Horstmanshof, Bing will not run a new video every day, but to mark special occasions, or when they have a special video to share.