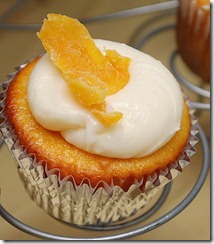 If we had a cupcake, we'd send it to Joe Belfiore, Eric Hautula, Brandon Watson and company at Windows Phone, for over-delivering on the Windows Phone Mango update, which, according to a Windows Phone blog post, began shipping to "98%" of existing Windows Phone customers" at around 10am PDT today. (Image source: What's Cookin' Chicago – Mango cupcake with cream cheese frosting, yummm!)
While a number of blogs have already posted a workaround that appears to force the Mango update (which may or may not work, and may or may not continue to work), officially Microsoft is taking a "slow and steady" approach:
If a problem comes to light, it's critical that we can isolate and fix it quickly. So we're deliberately starting out slow. This week, we'll be making the update available to 10 percent of customers. If everything looks good, we'll open up the spigot a bit more—to around 25 percent. We'll hold there for one or two weeks, then quickly ramp up to 100 percent—monitoring quality the entire way. That's how we ensure Mango arrives both quickly and in tip-top shape.
To be honest, after the problems that Microsoft encountered while updating Windows Phones to their first set of updates, code named "NoDo", while we didn't expect the same problems again, we thought that we would see general availability of new Windows Phones running Mango well before we saw an update to existing phones.  That Microsoft has gone the extra mile to take care of the admittedly "very small" set of current Windows Phone users first is commendable.
And by the looks of things, now that Mango is out, we could be seeing quite a marketing push for Windows Phones, starting with some new videos popping up on the Windows Phone YouTube channel:
[youtube_video]4CB15D80A7A6E4BA[/youtube_video]
As for when we'll get the updates, that remains to be seen – we're seemingly not able to work the "unplug the internet" workaround at the moment, as "We couldn't connect to the update service".  In any  event, we should be getting the official update soon, as should all of you with Windows Phones.
Let us know in the comments if you've updated to Mango (or more officially, Windows Phone 7.5), and if you got it through official channels or a workaround!