September, 2011
Here we go again!  This time, we're in Anaheim, California, for the unveiling of Windows 8.  We've been waiting a long time for this, and now finally Microsoft is ready to take the wraps off its touch centric, Metro-styled app …

The release of Windows Phone 7.5 "Mango" is imminent, rumored to be made available to existing users sometime this week. News is already leaking out from Microsoft about the upcoming Windows Phone OS updates. First up, Mary Jo Foley…

A few days ago we just revealed that Microsoft has plans to offer unlimited storage space for documents and photos on SkyDrive, and 25 GB for everything else. This is in response to the ever-increasing need for additional cloud …
AT&T just announced their upcoming line up of Windows Phone 7.5 devices coming this fall. All three devices, coming from HTC and Samsung respectively, will be 4G enabled. The first device, HTC TITAN, was announced last week featuring a …

The next major update for Windows Phone, codenamed "Mango", was released to manufacturers (RTM) towards the end of July, carrying the build number 7720. Since then, three new Windows Phone 7.5 devices – the Fujitsu IS12T, HTC TITAN, …

When Windows Live SkyDrive first launched in 2007 (known as Windows Live Folders beta back then), it offered a mere 500 MB of free storage. Later on when the service got out of beta in early 2008, this free …
So after a series of updates back in June this year for Hotmail, Microsoft is inviting press analysts to attend a Hotmail event to be held on October 3 in San Francisco and New York. Below is the invitation: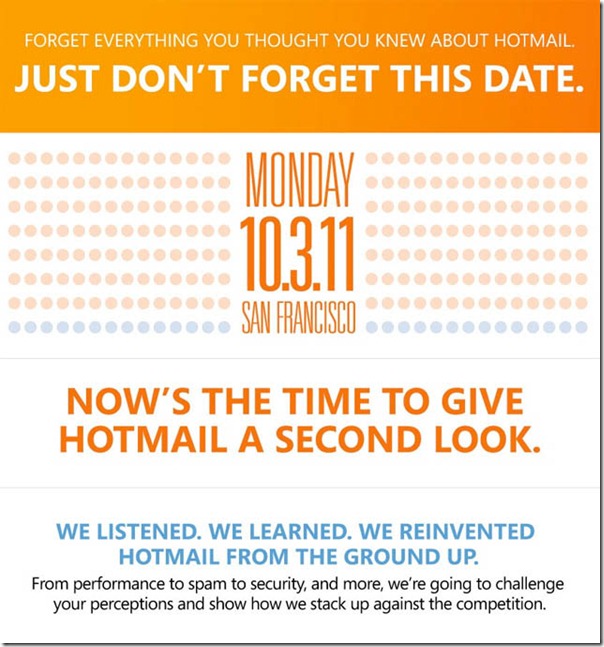 From …
We've received a couple of tips in the past 24 hours or so pointing us to what looks to be another new feature for Hotmail: an inline audio player, and with a little help from our friend F Martin Garcia…
Microsoft's highly anticipated Build conference, this year's version of PDC, WinHEC (and Mix?), all rolled into one, gets started next week with keynotes on Tuesday and Wednesday, starting at 9am PDT (GMT –7).
We'll be there, of course, liveblogging one …
The look of Windows Live Messenger is great, no? Yet sometimes you wish you could adapt it to the theming of your desktop, only if just a little. This can be achieved by applying a skin, something which only the …
Earlier this evening (Pacific Daylight time), Hotmail, SkyDrive, all the .live.com services, MSN.com, Office 365, and [email protected] addresses went down, according to various reports around the web.  Downrightnow.com, a "crowd powered" service monitoring service, pins the service disruption as …
A number of Microsoft online services, including Hotmail, MSN, Office 365, and seemingly most if not all of *.live.com addresses are currently "experiencing an outage".  MSN and Office 365 have already tweeted about it:
[blackbirdpie url="http://twitter.com/#!/MSN/status/112008273120595968″]
[blackbirdpie url="http://twitter.com/#!/Office365/status/112008132443648000″]
Omar Shahine, …
Getting some reports that a new Bing interface, much more than the home page update we reported on yesterday, is starting to surface.  The interface, looking to be quite touch friendly and similar if not the same as what Steven …
Today Bing announced, via Twitter,  its continued relationship with Twitter, and when a couple of Microsoft watchers asked Bing Director Stefan Weitz (via Twitter, of course) when they could expect the long awaited Bing HTML5, he hinted that …
A number of reports surfaced today about a set of upcoming changes to Zune Pass, set to take place on September 13th.  The changes have to do with the number of devices you can connect via Zune Pass.  An …
@Bing and @Twitter followers got treated to an interesting back and forth today as Bing and Twitter are apparently ready to announce an extension of their relationship.  Back in July, Twitter ended a relationship with Google to use its "firehose" …

When Microsoft released the new Windows Live SkyDrive Wave 5 M0 update back in June 2011 with a full UI revamp, while it provided a much more user-friendly interface to view and manage your files, it still carried many inconveniences …
Inside Facebook is reporting today that although games have traditionally held the top spots on Facebook in terms of monthly active users, a new class of applications, those integrating Facebook and large tech and/or media companies, such as Bing and …

As usual, the buildup to Build, and what will be revealed about Windows 8 and its surrounding ecosystem, is much more about what Microsoft is NOT saying than what it has.  After the Windows 8 demo at this summer's D8 …
HTC announced two new Windows Phone devices today, the aptly named Titan, and the Radar.  Notable in the two phones is the inclusion of front facing cameras, although with no immediate applications to take advantage of them to start (aside …