We're down here in San Francisco, at the Robert Fountain Studio, with Chris Jones, the Corporate VP of Windows Live Engineering, to talk about Hotmail, where it's been and where it's going, and to get a first look at a couple of new features.  Along the way, it looks like we're getting a coffee mug that's going to make Paul Thurrott so jealous.
We're not quite set up to live blog, but should be able to update this post as we go along.  First off, Hotmail is set to announce some new features, including Newsletter filtering, an addition to Hotmail's "Sweep" functionality, that lets you categorize email as newsletters, sweep them to a folder, and even unsubscribe from them, all from within Hotmail.
Hotmail is also adding categories, so if you're on the fence in the "categories vs. folders" debate, now you can do both.
In the new version of Hotmail, you can create and apply your own categories to individual mails inline
Users can use Sweep with categories, too.  For example, I can use Sweep to automatically categorize all mail from my wife to be in the "Family" category.
And now folder fans can do everything you'd expect with folders: manage folders inline and right-click to rename, delete, empty, or mark a whole folder as unread.
With today's announcements, Hotmail says it now has "Flags done right".  Now users will be able to flag messages, and they'll stay at the top of your inbox.  Again, Flags will work with Sweep.  Hotmail also includes Scheduled cleanup, so you can move or even delete mails from a sender after 3, 10, 30, or 60 days.  You can schedule cleanups to only keep the latest message from a sender, handy for things like daily deals.
On the UI front, Hotmail has added Instant Actions, to make the most common tasks easier.  Customizable buttons appear as you hover over a message so you can flag, sweep, delete, etc.  Of course you can just turn the feature off, too.
Along with the nice coffee mug, we were provided the almost obligatory infographic, so we'll leave you with that for now: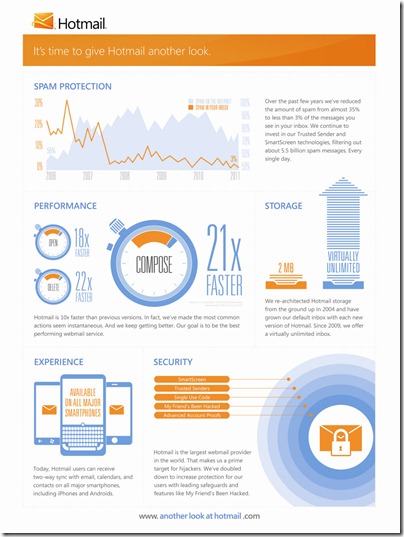 …
And now for the updates, notes on Chris Jones's presentation:
1/3 of users' Hotmail inboxes were spam in 2006, now it's less than 3%
Now we're fighting perception
It's expensive to be in the business of webmail
doing email right is a big big investment, it's one we're going to keep investing
You expect: ssl, conversation threading, we've got them
update #2:
Graymail: you can't just block the mail, because people may want it.
Now Dick Craddock is up…
Dick is talking about "Pilers, filers, and deleters"
Demoing sweep
Smart Screen filter used to identify spam now also identifies Newsletters
Unsubscribe is powered by Sweep, it can delete all current newsletters, and move all future emails (until the unsubscribe actually takes) to the junk mail filter.
Showing off Instant Actions customizations, create move to archives etc.,
Update #3: categories
Current (system) categories are Flagged, Office Docs, Photos, Shipping updates, but now you can create your own categories
Using sweep, you can move mail to categories, and then set up rules to send future emails to their respective categories