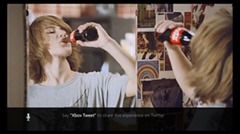 Yesterday Microsoft unveiled an impressive lineup of new content coming to Xbox Live: networks like SyFy, MSNBC, the Today Show, TMZ, and more.  What yesterday's announcement didn't say is that along with all this new content, Microsoft is planning to showcase a new brand of TV ad, which it calls NuADs (for Natural User Ads).  These new ads, which initially will have added interactivity such as clickable urls, will soon also be able to take advantage of the Xbox Kinect functionality.
An article at DigiDay calls the ad deals "a boon for Microsoft".  DigiDay explains how the ads will come into the market:
For example, with SyFy, Xbox will help the network's sales team sell and sevrve ad inventory, starting first with 30-second spots this December. Then by next spring Microsoft and SyFy will start testing NuAds, i.e. interactive ads which incorporate gesture and voice commands. Initially, buyers will not be able to cherry pick individual networks; instead, they will purchase video inventory across Xbox's budding video library. At this point, Comcast and Verizon are not part of the ad program.
With Xbox Live TV, Microsoft has positioned itself uniquely in a market that has been hard to capture.  While some kind of "smart TV" functionality seems inevitable, getting it right has been difficult.  According to DigiDay, "users don't want the whole internet on their TVs", they don't want to use a browser/keyboard experience, and don't seem too interested in reading blogs, etc., on their large screen TVs.
At the same time, content such as YouTube or Vevo (one of the new partners), may become even more consumable on a TV screen connected to Xbox.
DigiDay points to an Ad Age post from last June, where Microsoft showed off the NuAd technology at the Cannes Lyon International Festival of Creativity.  Ad Age described the interactive ads:
So basically all an advertiser will have to do is add a URL and a call to action to its existing spots that can then be embedded in game or video content. In the demo, Microsoft showcased a spot by Adidas that asked viewers to say "Xbox more" to receive more information about the brand in the form of a rich-text email that automatically goes to the email account associated with the Xbox Live login.

Another ad, a tune-in spot for NBC's "The Voice," told viewers it could say "Xbox scheduler" in order to get the show placed on the user's mobile-phone calendar. A spot for the Toyota Prius designed to spark trial of the hybrid was integrated with Bing maps. Saying "Xbox near me" showed a map with the locations of local dealers.

In a spot for Coca-Cola that could be activated with a swipe of the hand, viewers were urged to say "Xbox tweet" to promote the ad on Twitter.
Previously, interactive ads have been a difficult sell for advertisers as they would have to create unique spots that typically wouldn't be reusable, according to Ad Age.  In the NuAd platform, an advertiser would just have to include a url and a "call to action" to an existing ad, making it much easier to transition.
So along with new content, searchable by Bing and controlled by Kinect, Xbox will soon be providing new, interactive advertising sold across the Xbox portfolio, providing highly targeted demographic data, and controllable by you, the natural user.  Are you excited?