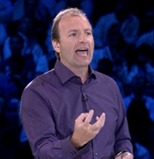 Windows Phone President Andy Lees gave interviews to at least three publications this week, talking frankly about Windows Phone sales, calling the iPhone 4S a "missed opportunity" and Android "chaotic", promising dual core chips and LTE (but not saying when), and noting that two major OEMs, Samsung and HTC, are promising to increase their marketing budgets for Windows Phone.
In a Bloomberg.com post, Dina Bass reports that Lees believes that "the stars are really starting to align for us".  Lees told Bloomberg that while HTC and Samsung will determine how their increased marketing money is spent.  They will probably spend some of it on training US retail staff, who have been reluctant up until now to sell Windows Phones, as Gartner analyst Michael Gartenberg explained to Bloomberg:
"From a technical perspective, it really does put them on par with the other competitors, but a lot of times Microsoft gets it right with the technology and then fumbles the marketing message," he said. Mobile-phone retailers haven't cooperated in the past, Gartenberg said. "If you went to store they showed you anything other than a Windows Phone. If you asked for a Windows Phone, they tried to talk you out of it."
Lees also spoke to All Things D's Ina Fried, who asked him about both dual core and LTE.  Lees said both are coming, but noted that current Windows Phones will still be faster "in usage" than other dual core phones.  Current LTE phones, also, he said, are big users of battery, something that Microsoft plans to improve:
"So, I think that what our strategy is is to put things in place that allow us to leapfrog, and I think that's how we've gone from worse browser to the best browser, and I think the same is true with hardware," Lees said.
Lees also told All Things D that Samsung's recent Android patent deal with Microsoft includes a commitment to step up its support of Windows Phone, not quite to the level of the Microsoft/Nokia partnership, but "certainly in that vein".
In quite a busy week for Lees, he also found time to speak to the Seattle Time's Janet Lu, and told her that he viewed Apple's iPhone 4S as "a missed opportunity", and that Android is becoming "chaotic":
Q: What do you think about some of the things you're seeing from Android this holiday season?

A: I think Android is heading down this chaotic phase. We want to enable OEMs (original equipment manufacturers), we want to enable operators, but we don't want chaos.

If you've used some of the (Android) phones, some of them are great, but some of them are not great. But it's random. And it feels like, with some of them, that you've had several cooks in the kitchen trying to bake different things with the same thing. Whereas we have much more coherency in the totality of what somebody gets when they buy our phone.
So it looks like we're officially beyond the "get Mango out the door" phase, and onto the far more important phase of selling Windows Phones.  Certainly getting Nokia on board beginning with Nokia World in two weeks will help, but expect to hear a lot from Microsoft about Windows Phones in the coming weeks and months.