Microsoft has just posted a couple of its new "It's great to be a family" ads on YouTube.  The work of ad agency Cripin, Porter + Bogusky, the ads play on the family theme, showing families interacting with the family of Microsoft products, including Windows PCs (where "it all starts", according to the ads), Xbox, Kinect, and Windows Phones.
Each ad comes with its own background video (Epic Share, and Dog.ppt), showcasing more of the Windows "family" components used in the ads.
Without further ado, here are the first two TV commercials, "Epic Share", and "Dog.ppt":
[youtube_video]Yg12GF5-vGg[/youtube_video]
[youtube_video]g30omUwhHTs[/youtube_video]
The ads are part of a new campaign to promote Windows, Xbox, and Windows Phone, and a new website at www.microsoft.com/family showcases the products, partners including Sony Vaio and Best Buy, and the ads: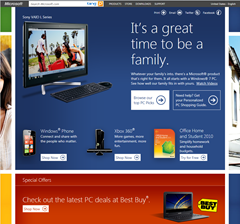 Frankly, we can't say as we're overly impressed with the new ads. These families seem a bit too mainstream, and a bit out of touch with reality, attributes that could well describe Microsoft.  We were hoping for something a bit edgier, more forward thinking.  Come to think of it, that's what we keep hoping from Microsoft, too.  What do you think of the new Windows "family" ads?