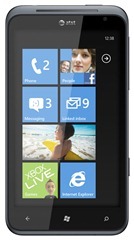 All Things D is hosting AsiaD from Hong Kong, and Windows Phone President Andy Lees just got off the stage a bit ago, after revealing quite a bit about the future of Windows Phones.
Of course you wouldn't know it by following the rather lame All Things D live blog, but Lees did make number of announcements.  We've been scouring the web for bits and pieces of news from the interview (and what year is this, anyway?  We feel like we're waiting for the Pony Express to bring us the latest news!  Hey All Things D: livestreaming, ever hear of it?).  Here's what Lees said, from what we can tell:
Nokia will announce Windows Phones (plural) next week at Nokia World (quote, via Engadget: "[Nokia will] have differentiating hardware and software."
Windows Phone will launch in China in 2012
NFC next year, and Lees alluded to LTE, according to a separate Engadget post
New OEMs to be announced, from what it sounds like.  From Engadget: "I'm also excited about naming some new OEMs that will be coming onboard [with WP7]."
Lees also showed off new Windows Phones, the HTC Titan, the Samsung Focus S and and the Samsung Flash.  You can read a bit more about them on the Windows Phone blog.
Lees also took the time to take a couple of potshots at Apple and Google, calling Siri not "super useful" and noting that Windows Phone voice commands operate via Bing with "the full power of the internet, rather than a certain subset".  He also noted that Android is "quite techy" echoing Steve Ballmer's remarks at Web 2.0 Expo yesterday that "you have to be a computer scientist" to use an Android phone.
Of course Windows Phone's big coming out party is next week at Nokia World, which WILL be livestreamed from London, starting at 9am October 26th, UK Time (GMT +1).