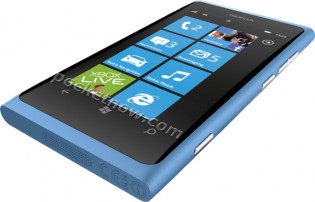 It is less than a week away from Nokia World, to be held on October 26 in London, and more details about the upcoming Nokia Windows Phones are leaking to the web. Just last week we saw a leak of advertisement materials for the Nokia 800, with the tagline "The sun will rise and set. The rest is up for grabs". Today Pocketnow.com revealed the first press shots for the Nokia 800, codenamed "Sea Ray". Check them out below:
The Nokia 800 is said to come in three color variants – blue, black and pink. The look and feel of the device is based on the MeeGo-based Nokia N9, but with slight modifications. From the images above, we can see the addition of the standard three capacitive touch keys (Back, Start, and Search), as well as the removal of the front-facing camera. If previous reports about the device is correct, the Nokia 800 is said to come with a 3.7″ AMOLED Clear Black Display, 1.4 GHz processor, 16GB storage, 8 megapixel Carl-Zeiss camera, and a 1540 mAh battery.
The Nokia Windows Phones are expected to come with a variety of new Nokia-specific apps. From the images above, we can see that apps such as Nokia Drive and Nokia Music will come pre-loaded on the device. In addition, Long Zheng from iStartedSomething noticed that Nokia may have added some additional customisation to their Windows Phones, a privilege given as part of the Nokia-Microsoft partnership signed in April 2011. Below is an image showing his analysis indicating that the Nokia Windows Phone might be using the "Nokia Pure" font instead of Segoe WP: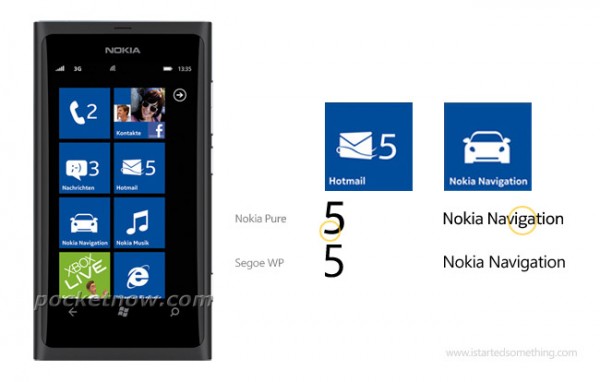 We understand that there will be more than one Nokia Windows Phone to be announced at Nokia World next week. According to Steve Ballmer at the Web 2.0 Summit, he mentioned that he is looking forward to Nokia showing off a "bunch of new devices next week", indicating that multiple devices will be launched. We expect that the Nokia 703 "Sabre", Nokia 800 "Sea Ray", as well as another device codenamed Nokia "Ace" to be made available. Based on leaks from the Italian carrier TIM,  the first Nokia Windows Phones will likely to be released in November 2011.